A Pony Named Lightning Part Seven
---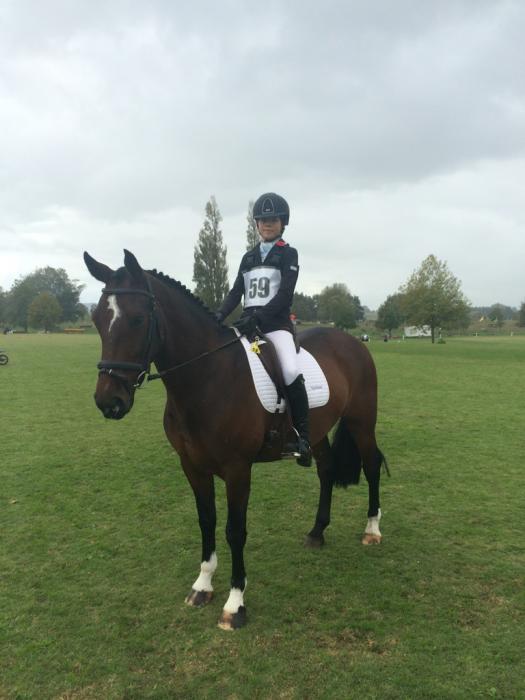 Having heard how wonderful the ponies and horses bred in Gisborne can be, Debbie and Fenella were keen to meet, Lightning. They were greeted at the airport in Christchurch by Olivia Robertson and her mum, Jan. Fenella was just 11 then and she was very excited about the prospect of getting a new pony. Debbie reports that on the very first meeting, Fenella and Lightning bonded. Lightning immediately responded to Fenella's very quiet unassuming demeanor and he visibly softened. Where he was full of character and cheek with both my housekeeper's daughter and Olivia (who I wish to point out could not have done a better job at getting this youngster started) it was as if he were instantly smitten by Fenella and he responded to her with a gentleness that in hindsight, endured for the entire time they were together.
"They immediately fell in love", said Debbie, summing it all up.
After a couple of days of riding, trying out, and getting instruction from Olivia regarding all the known Lightningisms, Fenella and Deb sealed the deal as being his next people, and they flew back to Auckland. Lightning stayed with Olivia in order for her to compete him in what was always the ultimate goal, the big South Island Three Day Event 2013, a huge competition for a four year old pony, and in which he conducted himself admirably with a lovely dressage, a rail and a clear cross country, all in appalling weather. As an added bonus, he won the four year old eventing series for 2013. He was now well and truly ready for Fenella. On the final day of that Three Day Event, he parted company with Olivia and travelled to Wellington, where he was met by my gorgeous long suffering friend (who was and still is my friend) who had more than endured many of the adventures of Lightning thus far. She transported him to the venue in Hastings where the Pony Club Championships for 2013 were being held and where very conveniently for everyone, Fenella was a member of the Northland Team riding her pony Apple Mac.
By all accounts, some of Fenella's peers and various people of note, who may have swayed Fenella's positive attitude toward Lightning, were quite vocal in their disapproval of her choice. Not only was he visibly exhausted from his big event in the South Island and then the trip across the ditch and North, but further he had a hind leg as big as an elephant's. During his travels, a nick on his hock had become infected and now it was massive. My friend arranged for the duty vet to treat him with antibiotics and the cellulitis soon dissipated. However, not a thing could be done to rectify his weird conformation, tractor wheels at the back, pony at the front. In hindsight, Pony Club Championships where the best of the best all were, was probably not the best place for Fenella to be receiving and showing off her new pony. The hard knocks of everyone having an opinion, may have really unsettled her, but to her credit, she remained stoically positive and her belief remained intact regarding the funny little bush pony, by Tea Tree and out of Swamp, who had come from the depths of Gisborne.
And indeed, in a very short time, Lightning had settled into his new home. He grew a little, his coat shone and he looked a million dollars. That same year the pinnacle of Fenella's multiple wins and placings, had to be her win of the Northland Area Trials gaining her entry into the Northland Team to return to Pony Club Championships 2014 and blow away all other competition by winning first place in the Training Section, and gaining admiration and respect from the early disbelievers. Fenella and Lightning proved to be an almost unbeatable pair.
Debbie laughingly recounts the moments shared with Lightning that were priceless and only added to their love of him. It was most certainly not all about the winning. On many occasions Lightning could not be found on the Carter's property, and just when everyone was about to panic the dairy farmer from next door would arrive on the doorstep, hot and bothered from chasing the runaway pony out of his lush grass and away from his milking herd. Debbie says, she and Dan one day actually watched Lightning, suddenly decide to take flight and off he set, heavily rugged up, jumping out of his own paddock, galloping along a race, out of that then over several more fences to arrive once more where he was most unwelcome, into the neighboring dairy farm. Consequently, Lightning's weight was difficult to monitor. Often somebody in the Carter family would say, "Where's Lightning? Oh there he is in the garden."
Often, when curtains would be swept aside first thing in the morning, a smiling brown Lightning face, would be peering in as if to say, "Is my breakfast arriving any time soon?"
Debbie told us, "Lightning wasn't just a notorious fence jumper at home. At horse events he was a worry. He would if necessary get on his knees and crawl out of his yard under the rails. There were many times when, Fenella would wake in the morning and be greeted by an empty yard."
It is fair to say, Lightning was a highly regarded member of the Carter family and his antics and successes will be in their hearts forever. Indeed, it was Fenella's love of Lightning, and her fear of hurting him or pushing him too hard, that influenced her painstaking decision to not continue taking him up through the grades from Pre-Novice, where he had been most successful, to Novice.
Midst bucketful's of tears, Lightning was loaded up into his brand new very flash Wade truck (a far cry from the very first float in his life) and delivered to his next little girl of only eight years old who waited with such excitement, she had not slept for days.
© iSpyHorses 2016
---