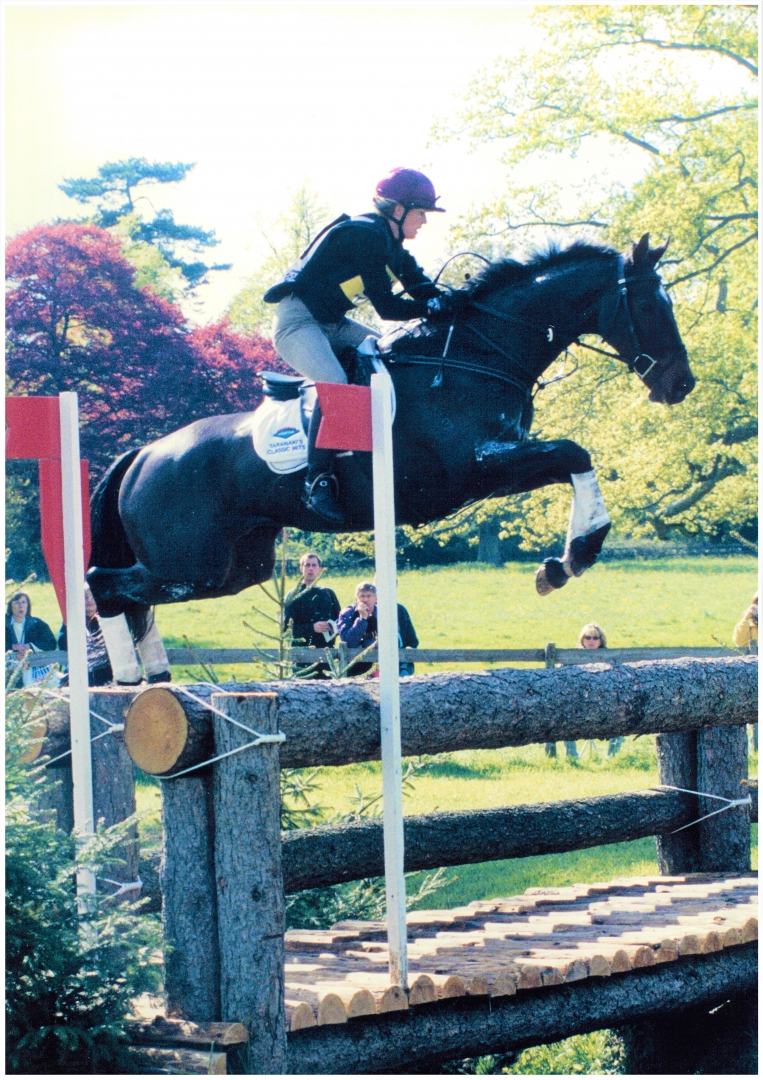 InFocus
---
THE POWER OF A REAL LIFE GUARDIAN ANGEL.
iSpyHorses -- Tue, 25-Aug-2020
THE POWER OF A REAL LIFE GUARDIAN ANGEL.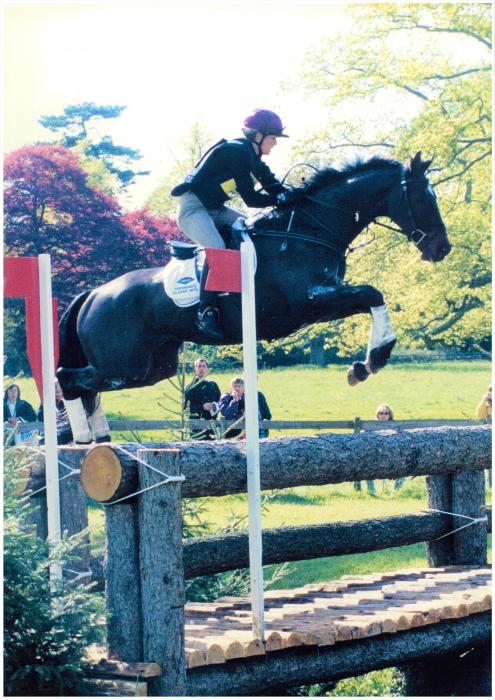 COVER PHOTO HEELAN TOMPKINS AND CRUSADER ON THEIR WAY TO COMPLETING A MAGNIFICENT CLEAR CROSS COUNTRY RUN AT BADMINTON 2002
PHOTO CREDIT & COPYRIGHT Michelle Thomson, daughter of the late Barbara Thomson.
The power of people supporting one another, giving their time, being kind, non-judgmental, sharing their wisdom with no hidden agenda or ulterior motive, is immeasurable. One person's altruistic involvement in another's life may ultimately bring about a magical result. Never could there be a better example of this than when a close friendship formed between two Taranaki families brought together by their common interest in horses.
Heelan Tompkins, her two sisters and brother too, from a young age, lived a busy 'riding school' life with their mother who, as the owner of Clearwater Riding School, provided ponies and lessons for many eager children wanting to learn about riding and not always able to own a pony. Heelan's father was a dentist before being diagnosed with multiple sclerosis and confined to a wheelchair.
Jan Willems, having returned to Taranaki after working overseas, along with her daughter Blossom Cameron, researched where would be the best place to take Blossom's daughters, Natalie, and Ashley, for riding lessons. They decided upon Clearwater Riding School.
Blossom was very much interested in personal training and, coincidentally, Heelan at that time needed help with her fitness. So, Blossom got to work and made it her project to be Heelan's personal trainer. Heelan recalls this time as being a lot of fun. For several years, together she and Blossom would hit the gym daily. In Blossom's wonderfully efficient style, taking her role seriously, she often drove to Heelan's house first thing to cook her a perfect breakfast. Before long breakfast, lunch, and dinner was prepared and served. "Blossom didn't trust me not to ruin her training," Heelan said.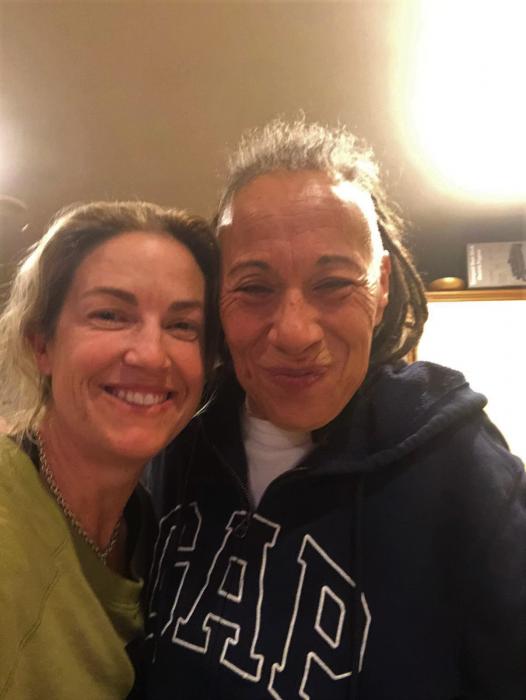 PICTURED - HEELAN TOMPKINS AND BLOSSOM CAMERON
Wanting to encourage her granddaughter's rapidly growing interest in horses, Jan purchased a horse truck for their new ponies to be transported to competitions. Blossom sat her HT licence in Taranaki having already driven the horse truck 8 hours from Auckland with Jan seated beside her telling her not to worry about never having driven a truck before, and that by the time they got home Blossom would be a great truck driver. Subsequently, Blossom put her hand up to drive Heelan's horses to horse trials, which meant Jill could keep her busy riding school going. At the horse trials, Blossom made many friends all attracted by her wonderfully infectious, strong personality. Heelan's otherwise quiet truck, was filled with laughter.
Most afternoons in Taranaki when Heelan finished riding and Blossom had finished feeding her, they'd go to Jan's place and sit around the solid family kitchen table. They would soon solve the world's problems. "Jan was not a normal grandma," Heelan said. "The conversations might cover the latest MTV news and quickly move to the local primary school sports results. And who had won the 3-legged race there. Jan was very hip. I had so much respect for her and I really liked her."
Always available, Jan was a great sounding board for many different situations and a good friend to both Heelan and Heelan's mother, Jill. "Jan was very much present while Mum was coping with a million things. Jan was a wonderful, even keeled, level thinking person to have in our lives," Heelan said.
At this stage, Heelan was successfully competing her horse, Crusader, and he was often the subject of the chats over the afternoon coffees in Jan's home.
Crusader was a thoroughbred who came into Heelan's life after a call from local horse trainer, John Wheeler. "The one thing that John said of any great relevance about Crusader was that this horse didn't want to be a racehorse. He looked at the fairies and the birds while cantering around the track. Meaning he was more interested in life and not simply tucking his head and going fast to be at the front of the pack, focussed only on beating the others. For Crusader it was all about the journey. He was secure in his own person and he had an uncanny confidence in life, which didn't include going fast," Heelan said.
A thousand dollars was paid in exchange for Heelan's sole ownership of Crusader. From the outset, he was happily ridden everywhere on a long rein. He didn't pull. "You could kick him along," Heelan said, "but in a good way. Obviously, he wasn't a slug. But going fast was simply not on his radar. He was as fast as you wanted him to be. But he was also happy to be a normal sport horse. It was as if that had been his job for years and he'd known nothing else."
On one occasion early on in his training, Heelan recalls trotting him into a jump and he casually jumped the stand. Heelan was shocked and left wondering where on earth that had come from. But Crusader remained undaunted as if jumping the stand of a jump was the most natural thing to do.
Recognising almost immediately that Crusader was truly special, Heelan, with her forte being the greatest jumps jockey almost ever, did all the jump schooling. Her mum, Jill, given that dressage was her forte did all the dressage schooling. Between mother and daughter, Crusader received a wealth of the best possible knowledge and experience in his training and, in no time, it all paid off and he was making it clear that he didn't know how to lose a competition. When he first went eventing to a horse trial at 1.05 level, he more than proved himself to be highly naturally talented and even as early as this people were noticing him. He was also attending Taranaki PC and he went out and did A1 Eventing when he was only 5. He won the Taupo Young Event Horse as a 5-year-old. Heelan recalls at that event asking Campbell Draper to gallop Crusader in this competition and the pair ended up with perfect gallop marks. "Campbell did a great job and he praised the horse highly, saying how beautiful he was."
After that Taupo win, Crusader never looked back. At 6 years old, he was jumping at Intermediate Level and, out of all Heelan's horses, Crusader was the one that people admired. The offers to purchase him began to roll in and from all directions. Heelan's younger sister, Jean, was keen to try out for the Trans-Tasman event coming up the following year and they needed to find her a horse. Heelan offered her Crusader. The sisters studied the calendar, determined how to qualify and after the prerequisite events, Jean and Crusader flew to Australia. Crusader was 7 years old. He and Jean had a great trip and the NZ team was victorious that year. Heelan said, "It was quite remarkable that Jean could just hop on Crusader and pilot him around such huge jumping courses and at big competitions. Jean was of course a great pilot. But it's not every horse you can just hop on like that. And go so well."
Crusader, in a short time was making his way to Advanced Level. He was still looking to be amazingly promising as a potential international prospect. Given that he placed well at all his Three Days, there were lots more offers to buy him. Out of all those interested there was one agent who had a great eye for a horse and his clients wisely trusted his judgement. Many of these clients were in the UK where this agent had recently been competing and there was one rider who he believed the horse would suit. Doing a great job, as always, he had found the perfect buyer for the perfect horse, and the numbers were getting too big for Heelan to ignore.
Heelan was starting a business, training and selling horses professionally, she didn't own a house and there was no income without selling a horse. Finding herself in this position where the sale of Crusader would equal the sale of a hundred horses, was not to be sneezed at.
"Sitting on a great horse and receiving big offers for it, makes you face facts," Heelan said. "You question yourself. How are you are going to take this horse through to its full potential. On an international scale. And if you're unable to do it, do you let the horse go and do it with someone else."
The pressure on Heelan to sell was huge but of her own making. The emotional value created a conflict and it was too great. Heelan loved Crusader. She continued to resist the temptation to exchange him for money. But then after a lot of back and forth, finally a figure was hit upon that made Heelan know she really should just take the money. Knowing all too well even at her young age, that a horse is never more valuable than when it's not for sale, Heelan reluctantly agreed to sell.
Early the very next day, Crusader was loaded onto Heelan's truck. The buyer's vet was booked to complete a five-stage check to take place that same afternoon at the agent's property.
The engine was running and Heelan behind the wheel was ready to drive. But she experienced what was probably a panic attack. "I was bawling my eyes out. I can't even describe it really. I was just so upset. Crusader was standing so beautifully calmly on the truck and I was falling apart. I was like, I don't know what I'm doing here."
Heelan couldn't see to drive. She dialled Jan, the family's level sounding board whose opinion, Heelan trusted.
Jan said, "Well you're upset, Heelan, obviously because you said you'll sell Crusader. And you don't want to sell him. Listen to yourself."
Heelan told Jan that she'd already agreed to sell him, so she had to go through with it, and Jan said, "He's your horse. And you're not selling him. You get him off the truck. And you come here now to me. We'll have a coffee."
Still crying, Heelan took Crusader off the truck, put up the ramp and drove to Jan's house with self-doubt pounding around in her head, questioning had she done the right thing and what would she tell the agent, and the vet booked for the five stage examination. They were all waiting for her to arrive.
Over their coffee, Jan, not a horsey person at all, pointed out that clearly the horse was amazing, because everyone wanted to buy him. She asked Heelan why she herself could not go and do with Crusader what these buyers were going to be doing. Heelan explained that it was never going to be an option for her the reason being, Crusader was 100% her horse. There were no owners involved to share expenses. It was hugely expensive to take a horse to England and compete internationally. "I can't do this," Heelan said.
Another coffee was poured. And Jan said to Heelan, "Well you can do this. Because I'm going to give you the money. You're going to put Crusader on a plane and you're going to go to Badminton."
With her head still spinning, Heelan said the conversation became kind of swirly. She pointed out to Jan, all the valid reasons why the sale should proceed the main one being that she'd promised to sell but also the horse could break his leg tomorrow and then the chance to make so much from a sale now would be lost.
To this Jan replied, emphatically, "Well he won't break his leg."
Heelan understands now in hindsight and with more maturity that Jan believed this to be about opportunity and not about money. "Jan looked at money as 'money is just money, but this is your life'. Money comes and goes. But at the time I didn't look at it in the same way."
Heelan began reeling off all of the 'but what ifs' the most worrying to her being 'what if I fail?'
Jan's reply to this was, "Well you won't."
Then under Jan's instruction, Heelan hesitantly picked up the phone and rang the agent. She got the answer phone and left the hardest message she ever had to make, 'I'm not bringing the horse to you today. I'm not going to sell him.'
Minutes later the agent rang back and was naturally terribly upset. A lot of big words were used and it was a few years later before Heelan knew what they all meant. Heelan remembers at the time feeling paralysed and having no idea what to do. But Jan knew. She grabbed the phone, pushed the button to disconnect the call and turned it off. She said to Heelan, 'Well it's done now. You have to get on and ride that horse. You've got a job to do."
Heelan says it struck her then more than ever before that Jan was not a wealthy person at all. But she had a weird calmness about contributing so much money. The way it had all panned out that morning was as if it was prearranged and something Jan had already decided to do.
This moment provided a big learning curve for Heelan. She understood the value of having someone she trusted enough to take control and tell her what to do. This was a life changing decision to make and Jan was Heelan's guardian angel. Everyone else Heelan had consulted had been helpful and concerned but they all had said do what's right for you. There are lots of options they told her. Write a list of pros and cons. Weigh it all up. Heelan had all this great well-intentioned advice that all came back to her alone to ultimately decide. Wiping her eyes, Heelan only 22 years old, breathed a big sigh of relief. Now it was easy to begin the journey along the clear path made for her and Crusader, by Jan.
Amazingly, to make it possible for Heelan to leave her horses in NZ, it was Blossom, Jan's daughter, who put her hand up once more and offered to take care of them all. Blossom would feed them breakfast and dinner every day and she refused to take payment for this. "Just go well over there," she'd said.
At the time it all seemed quite normal to Heelan that Blossom would look after the farm and all the horses on it. But in hindsight it was huge with ten horses there at least, and Blossom did it all so happily without a hiccup. One of these horses was a favourite of Blossom's and now especially high maintenance after he had tragically broken his leg at a competition. Still only learning about horses, Blossom took it upon herself to rehabilitate Boston who was post major surgery and confined to 3 months in a stable. Blossom loved brushing him and making him feel relaxed and happy. The fracture was complete and not just a crack in the bone. It required that Boston go straight into surgery at Massey University. Boston walked into surgery on 3 legs, leg number 4 hanging as if not attached at all and he walked out a few hours later with pins and plates installed, using all 4 legs and walking normally.
With nothing stopping her now, Heelan booked a ticket for herself and Crusader to go to England, she rode him at Badminton and as an 8-year-old he was the youngest horse in the field. And he jumped clear. Accordingly, he was then selected for the World Championships in Spain. It must also be mentioned here that throughout this entire time, Crusader's self-appointed personal groom was a young kiwi boy by the name of Greg Smith. In NZ Greg had told Heelan she would not be able to manage overseas without him. He gave up his job in the clothing industry and, refusing to take any payment from Heelan, he travelled with Crusader. Greg slept in a caravan and Crusader was his baby. Performing his job as head groom so efficiently on the world stage, Greg was headhunted in the UK where his lifelong career and future as a top dressage rider began.
The most ironic coincidence of all to take place at this time was that while Heelan was in the UK preparing for Badminton and not yet selected for the World Games, there was a fund raising competition held in NZ, the winner of which would receive a ticket to go to the World Equestrian Games in Spain. It was won by Jan Willems. Of all the people who could have won, Jan did. Jan boarded a plane, alone, to embark on this trip which was quite a big deal for a grandma. Young at heart though, Jan joined up with a New Zealand tour group also headed to the World Games.
Crusader was the horse that the NZ team wanted Heelan to ride. Jan seated front row and centre, in pride of place, all expenses paid, watched her rider and her horse, who she had so generously sponsored enabling them to be there in Spain at The World Equestrian Games 2002.
That cross-country course proved to be the most difficult, Heelan has ever jumped, even to this day, and Crusader jumped clear. Many people will not be aware that Crusader stumbled in the water jump there and with his hind hoof, he struck the back of his front leg cutting it quite deeply. He completed the course but then required many stitches to be applied and with no anaesthetic in order for him to be eligible to show jump drug-free the next day. Which he did. Heelan said, "I felt terrible having to put him through that. He'd just jumped an amazing cross country. He was so brave. But we were part of a team."
Shortly after the World Games, Crusader was flown home to New Zealand, the idea being to rest him as it was now nearly Christmas time. It was only a matter of weeks though and someone called from the UK to say they wanted to buy him.
There was a big difference about this offer from all the others and it was the timing. While Heelan would have loved for Crusader to remain in her possession and eventually retire in her paddock, equally she had now achieved wonderful results on the world stage, something she never thought she could do and she had gained the confidence in herself to know she could do this again and with another horse.
This sale did not feel like it was the end of the world for Heelan as it had done on that day a year or so earlier when Jan directed Heelan to pull out.
This latest offer was around 3 times more than any previous offers and the deal was done. The moment Heelan had a healthy bank balance, she went to share the good fortune and a coffee with Jan.
They discussed their awesome journey with Crusader and Heelan of course having just been given this life changing amount of money wanted to fairly share the proceeds of the sale with her friend who had made it all possible. Heelan asked Jan to tell her exactly what amount would be fitting, 2 times or even 3 times the original loan amount. It was for Jan to decide. And with no hesitation, Jan told Heelan, emphatically, in her wonderful style of not mincing words, "I said I'd give you $50,000 and you'll go to England and ride at Badminton. You've done that. And more. I would just like my $50,000 back thank you and the rest is yours."
Ignoring Heelan's protests, Jan would not budge. Heelan had sold Crusader to a great home in the UK and with the proceeds, she purchased a farm in Taranaki that she still owns today.
Both Blossom Cameron and her mother Jan Willems played a big part in Heelan's life. Jan believed in Heelan enough to put her life savings on the line to make the dream trip possible. Blossom was her personal trainer, her dietician, her driver to the horse trials, nurse to Boston, and she took great care of the other horses left behind while the world trip took place. Jan and Blossom both were not horsey people and possibly as far removed as you might get.
The saying that 'the apple never falls far from the tree' could not be more fitting than when describing this wonderful mother daughter team. Heelan says Jan Willems was her fairy godmother setting her on a track of success with her riding career. Blossom Cameron, Jan's daughter, is also famous for being a fairy godmother to an extraordinarily successful young kiwi, who she took under her wing, into her home and set on his star-studded career. Please read about Blossom Cameron and Steven Adams here
http://i.stuff.co.nz/sport/8857002/Cheers-tears-as-Adams-supporters-celebrate
When Jan died very recently, Heelan was at the funeral, quietly reflecting, looking around the room and feeling the enormity of Jan's influence on others. Huge numbers of people were paying their respects, all of them impacted greatly in one way or another by Jan, and it struck Heelan then that Crusader and she were only a small part of Jan's life. So many people were there, each of them representing different aspects and branches of Jan Willem's wonderful full life. Heelan understood that while she was a significant chapter in Jan's life, the impact of Jan on Heelan's life was far greater.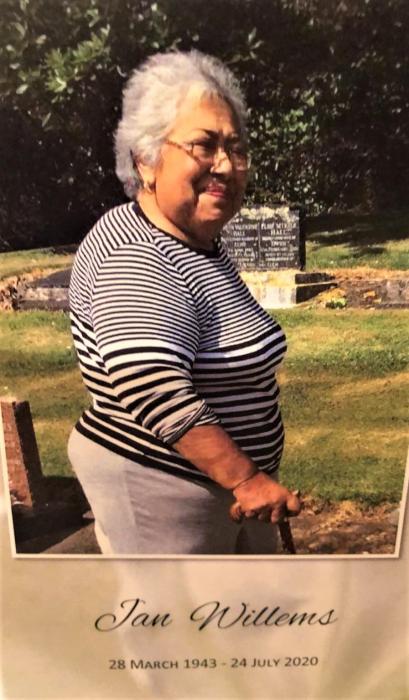 It wasn't too long before Heelan and the agent involved in the cancelled sale were able to process what had happened between them and maybe not forgive but move on. The agent being a true professional, subsequently has happily completed numerous horse sales with Heelan. Regarding being friends again though, "It was maybe all of 20 years later," Heelan said.
Reluctantly, when pressed, Heelan admits that if she is brutally honest it was the right decision for her to pull out of Crusader's initial sale. "But of course, it was not the best practise. Although, even the wrong decision can turn out to be the right one after all," Heelan said. "If things had gone horribly wrong after stopping Crusader's first sale, in fact it still would have been the right decision."
Heelan believed in what she was doing so very much more after Jan had put her trust in her. The trip away, win or lose, gave Heelan, lifelong connections still hugely important to her today.
When Crusader was sold, he had already done more in his 9 years than most horses would ever do in a lifetime. For a New Zealand racehorse that did not want to race, he was blessed to have enjoyed a successful eventing career on the world stage with Heelan. Then to end up in a 5* home in England where, after retiring from eventing, he and his doting new owner happily enjoyed numerous hunting seasons together, is way more than most fine horses could ever dream of.
Two years ago, Heelan received a phone call from England to say it looked very much like Crusader may have to be put to sleep. But then he came right again and Heelan received a lovely photo of him with his paddock mate.
And Boston? Well he went on to win the National Intermediate Title at the Puhinui International Three Day Event and was subsequently sold overseas, pins and all, the new owners not worried in the least about the possibility of him setting the security alarms off at the airport.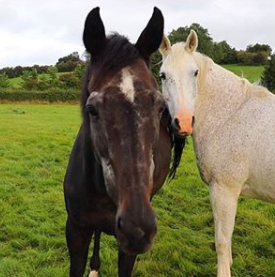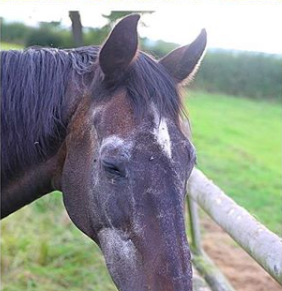 PICTURED ABOVE THE BEAUTIFUL CRUSADER ENJOYING HIS RETIREMENT IN ENGLAND
COPYRIGHT TO ISPYHORSES 2020
---