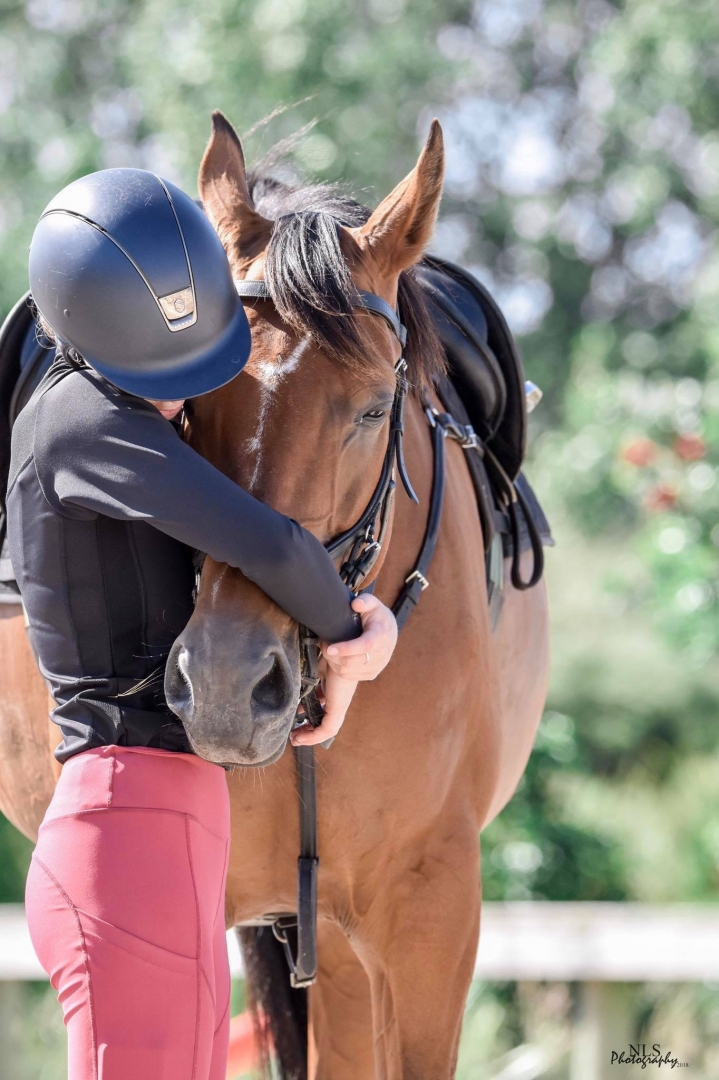 InFocus
---
THE MOST IMPORTANT GOAL
iSpyHorses -- Mon, 27-Apr-2020
Sometimes it is not that easy to get straight back on the horse again. As a young girl, like many others, Tyla Myburgh, dreamed of owning a beautiful grey pony that may or may not have had a horn sticking out between its ears. Tyla begged and pleaded with her parents but the answer was always an emphatic, stern, no.
Undeterred, Tyla at age 6, who had never even ridden a pony, was already planning her Olympic debut. It was only when her family took a trip home to South Africa that a chance arose for Tyla to have her first ever ride on a beautiful grey named Melody. Somehow on their return to New Zealand, Tyla had convinced her parents to allow her to have lessons at a local riding school. Strategically, they booked the one and only term promised, to be taken in the middle of winter when it was cold and miserable. Little did they know though just how determined Tyla was and she loved every minute. A year later and after lots of terms of lessons, Tyla was rewarded with her very first palomino pony named Goldie.
Plans for Tyla's future included wild dreams of travelling internationally and basing in a beautiful busy yard anywhere in the world but in New Zealand. "I had extensive mind maps written on boards in timelines with ideas, pictures etc, all about how I could make this dream a reality."
After several successful seasons competing in dressage around NZ, Tyla discussed with her parents how she wanted to try jumping. The mind mapping was revisited, and the words crossed out where it said Dressage and replaced with Show Jumping.
The search for a jumping pony began and Tyla fell in love with 'the most insecure, uptight and untrusting pinto gelding' that she believed would soon make all her jumping dreams come true.
Every time Tyla rode Tonka, she fell off him, but she got straight back on. 'His legs were so long for a pony. When he cantered, I felt like he was galloping. I was so little on him. But he was as safe as you could get."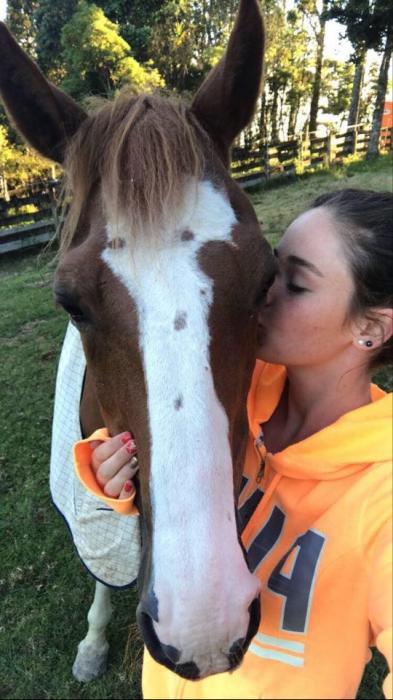 PICTURED TYLA AND TONKA
Together Tyla and Tonka formed a great partnership and over the years they achieved a lot of success and at Horse of the Year as well which had been one of Tyla's goals outlined on her mind map. Eventually, Tonka reached retirement age and in January 2017 he was tragically diagnosed with a broken neck after an unexplained injury and he was put to sleep.
Meanwhile, Tyla had other lovely horses in her life but none as special to her as Tonka. She was experiencing what many riders do with bullying in the sport, being let down badly by some people and the subsequent feeling of not being comfortable or welcome. Possibly related to these tough times, Tyla developed an irrational fear of jumping higher than 1.15 on grass. "Nothing specific like a fall, or a slip, bought on this fear, and it has been a hard pill to swallow. Cheering on all my friends and watching them step up the grades is so rewarding. But I always felt left behind and sad that I could not do the same. I couldn't shake this fear off."
Tyla found herself struggling to accept that Tonka had gone in the circumstances that he did. She had gained a Bachelor of Business Studies majoring in International Business and got a job in supply chain which she disliked enough to grab an opportunity that arose to travel to India for 2 months. This offered a chance to do something alone and get away from her parents insisting she keep working in a proper job that she hated, and to get away from her horses that were not Tonka. She grieved for him. She felt like she never wanted to ride again without him. "I hated Maia, and I didn't want to do trivial office work that I saw no sense in doing and that I didn't care about. I wanted my parents off my back."
Tyla's trip to India would change her life. On her arrival there, she wanted to get a tattoo of Tonka to remember him forever. But her loathing of needles precluded this, so she had a bracelet made with his name on it. She soon realised this didn't quite cut it and was in a shower in the middle of Goa, India, where there is no hot water, when it dawned on her to start a company of her own named Rhythm Equestrian. The idea bounced into her brain. Tonka's show name was Rhythm n Spice, and Tyla says her trip to India saved her life in terms of restoring her hope for her continued journey with horses even if it were nothing like what her mind mapping board portrayed.
Fast forward to now, Tyla has her business under control and she's making great headway with it, importing riding apparel from overseas to sell locally, and she has a newfound relationship with her beautiful mare, Maia, who she admits is her forever horse. "She has a mind of her own with a spunky personality to match. She has the talent to help me achieve all the crazy dreams and goals I set out to do and have not managed yet. So then while the talent is there the dreams can remain."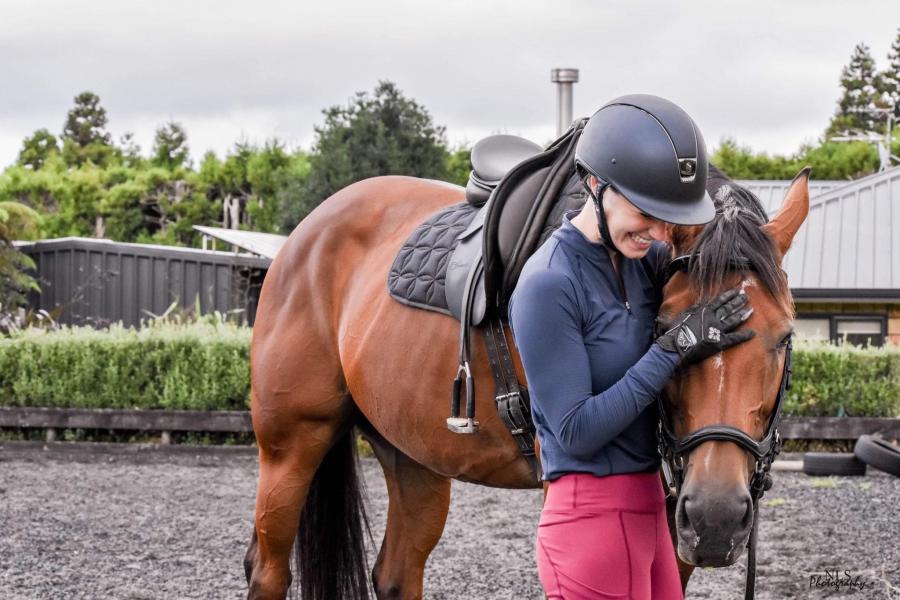 PICTURED TYLA AND MAIA
Tyla came to realise that what was the most important goal of all had been missing from her mind map. It turns out that Maia is also the best for assisting with this goal. "Do you want to know what was never on my mind map? And it's the thing Maia is best at doing for me. It is getting me out and about with a huge smile on my face. At a time when I thought I was ready to give up and take a back seat from competing, Maia happily cantered along the beach and would walk briskly through the forest with me. She was fine about waiting until I was ready to face my fears and jump again."
Tyla attributes the stroppy little mare, Maia, with giving her the confidence to once again jump courses bigger than 1.15 on grass. "She always tries her hardest to keep me happy and safe. My journey with horses has shown me that it is okay to be scared. That there is life after being bullied and having a bit of a hard time. It is okay to rethink your goals and question why you are doing something that may not be the most rewarding. Then you change direction. "I realised that the most important thing for me is that I'm having fun and that I'm surrounding myself with real friends. Life is too short to do anything other than what makes you happy. Whether that is competing in World Cups, competing at your local shows or even just having someone to ride along the beach with and to call your best friend which may in fact be another human or it could be your horse. If it makes you happy then you need to do that. I can't wait to see where my journey takes me to."
PHOTOS OF MAIA AND TYLA, CREDIT AND COPYRIGHT NLS PHOTOGRAPHY NZ
---