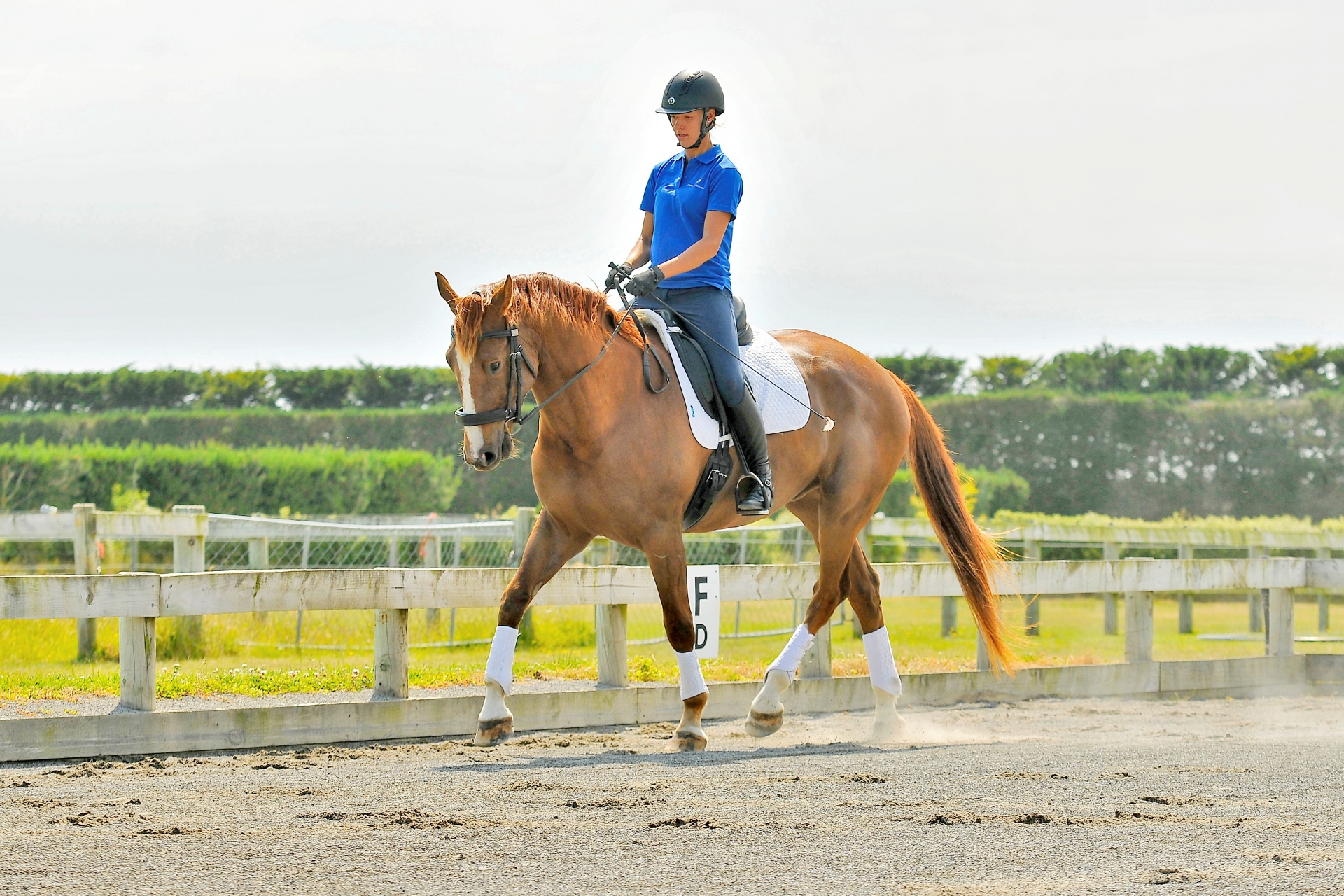 InFocus
---
New Student Accepted for NZ's Dressage Academy
iSpyHorses -- Mon, 30-Dec-2019
Christmas brought with it extra excitement for Wellington rider Jaimie Mulholland who has been accepted into Canterbury's Dressage Academy.

Academy chair Tony Herstell says he and his team are committed to pairing top horses with talented riders and producing riders and trainers of tomorrow. "We are pleased to have filled our student quota for the 2019-2020 season with the addition of our latest talented student Jamie set to join us in February 2020," said Tony.

He extended a huge thanks to all who had applied to the Academy and particularly those who had visited the Christchurch establishment for assessment and wished them all every success in their future careers.

The list of current students and horses is:

| | | |
| --- | --- | --- |
| Rider | Horse | Owner |
| Abigail Smithies | Wynter | Tony Herstell and Brugs Nicholls |
| Jaimie Mulholland | Lizzy | Trudy Guy |
| Lily Barrett-Power* | Hells Bells* | Tony Herstell and Brugs Nicholls |
*Special Arrangement


"The Academy remains committed to removing the financial barriers for students and provides the Horse and the Training for free and without our supporters the Academy would not exist," says Tony. The Academy is fortunate to have one other horse available for the 2020-2021 season. Funny will be matched with a talented student in 2020.
Abigail Smithies
Abigail is from nearby Lincoln. She is the eldest of 12 children and runs her own business training and selling horses on behalf of people.

She has spent the last few years riding green horses and is excited to take her riding to the next level and get out of her "green horse rut" through the Academy.

Jaimie Mulholland
Jaimie is from Ohariu Valley in Wellington. She has already enjoyed a lot of success in equestrian circles and has high hopes for the future. Jaime will be attending university while at the Academy.

Lily Barrett-Power
Lily has been training with Brugs since she was 14 and a fixture at the stables for years. Thanks to that training, Lily has been able to set up her own business training horses while also attending Canterbury University.

Her commitment and talent has seen her take the ride on Tony's horse Hells Bells and she is currently training him towards Grand Prix under Brugs' watchful eye.


The Academy is hugely appreciative of those who have loaned horses to students including Trudy Guy who was the first person to loan the academy a top-quality horse in Lizzy. For Tony Herstell it reinforces they are on the right track. "It shows the trust Trudy has in our training methods and the quality of the students we select," he said.

The Academy is running fundraising activities in 2020 and welcomes everyone to their events including clinics with British Olympian Vicky Thompson Winfield who is scheduled to visit in late 2020. Bookings are already being taken for the clinics which will be run by Vicky and Brugs.



PICTURED
Dressage Academy student Abigail Smithies riding Wynter, who is owned by Academy chair Tony Herstell and chief instructor Brugs Nicholls.


PICTURED

The team from the Dressage Academy (from left) . . . coach and Grand Prix rider Brugs Nicholls, board member Guy Alexander, chair Tony Herstell aboard Hells Bells, board member Helen Maskery, student Abigail Smithies aboard Wynter, Lizzy's (horse) owner Trudy Guy, student Lily Barrett Power aboard on Lizzy, board member Vernon Ramsey-Smith and board member Sue Harris holding Funny.


---