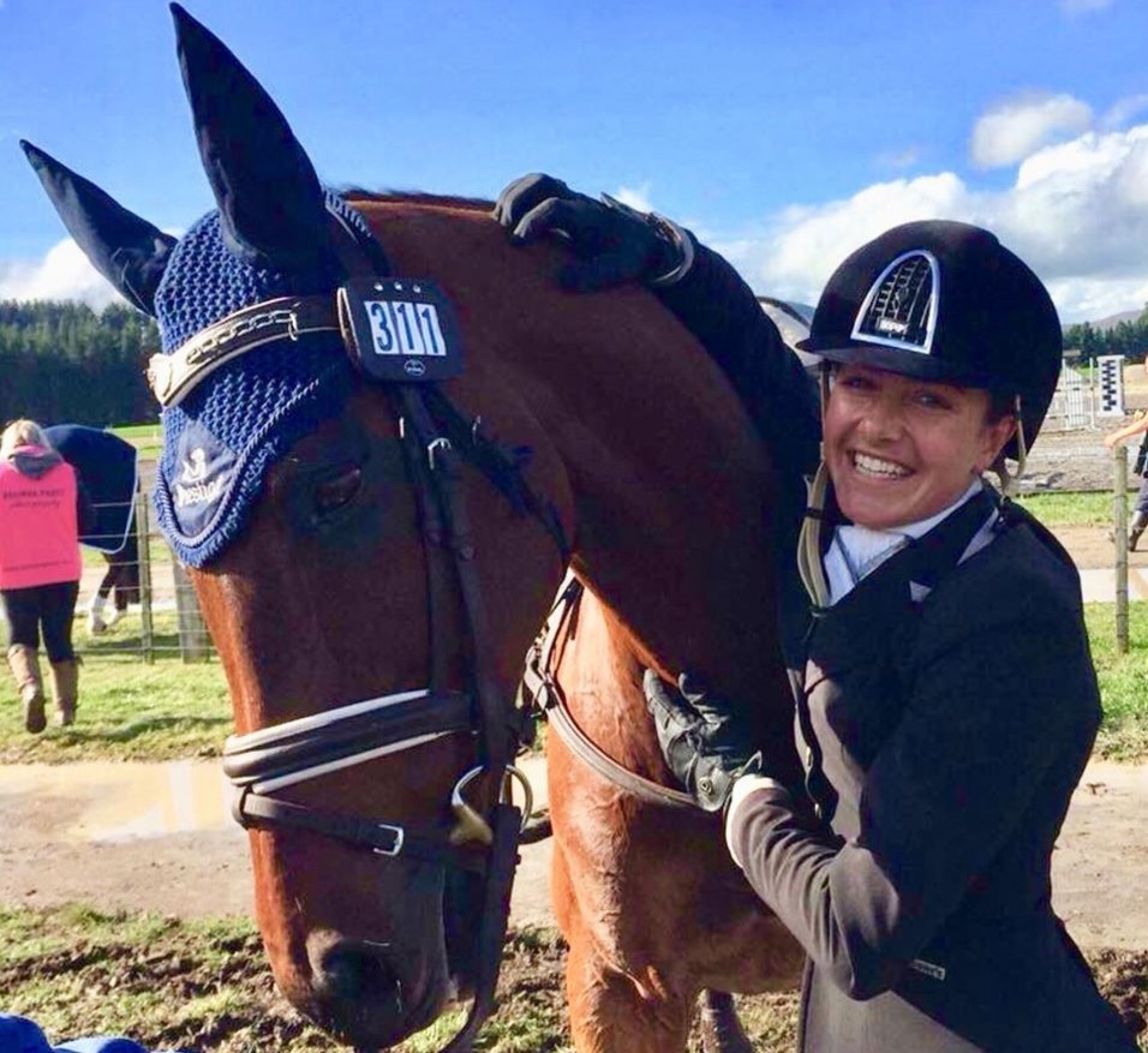 InFocus
---
BIG PLANS PENDING
iSpyHorses -- Tue, 03-Dec-2019
Needing little introduction, Amanda Pottinger (28) is one of New Zealand's few top-level international eventers. Amanda's team of 4 quality horses reside at Kokako Farms in Fernhill, Hawkes Bay. The property boasts 230 hectares of sheep and beef country, plus all the equestrian facilities you would ever want, including 4 big stables, 8 paddocks and an arena. Amanda lives nearby in Havelock North. At Massey University, Amanda gained a Bachelor of Science in Agriculture which she puts to good use working as a Business Analyst for the BELL Group Dairy Farming Company.

Three days a week Amanda goes into work at the dairy farming company and the other 2 days, she works remotely. The rest of her time is taken up teaching other riders and with her own horses. "I like the balance of horses and working as an analyst. I give both more effort as I'm not doing either one full time. I also like not having to ride ten plus, horses a day. I purposefully have a smaller team of horses and I really enjoy riding all of them."

Recently, Amanda took Just Kidding, to Adelaide and the pair were successful in the CCI5*-L at the Mitsubishi Motors Australian International 3 Day Event.

Just Kidding (TB) is by Fusaichi Pegasus, an Australian Stallion, and he's out of Gypsy Princess. He was bred in Australia at Colemore Stud then shipped to NZ to be sold in Karaka at the yearling sales. He fetched around $150k, was trialled only twice and that was it. Luckily for Amanda, Ferg decided very early on that he did not wish to be a racehorse. His breeding was very popular at the time which probably explains his high value.

Just Kidding, fondly known as Ferg, is Amanda's teammate of 9 years. "No one expected this little horse to go above 3*. Me included. He's not a big jumper. But he has a massive heart."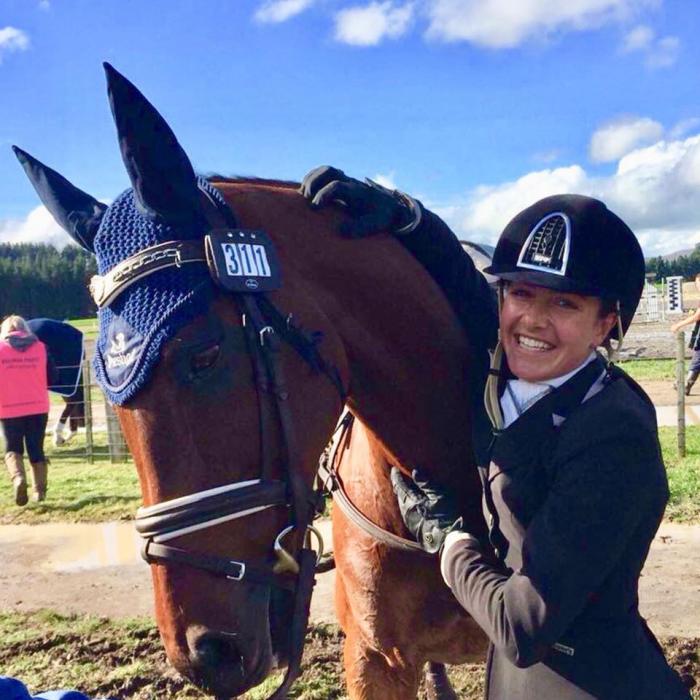 After a great dressage in Adelaide, and an incredible foot perfect clear cross country, with an amazing recovery at an element in the water when Just Kidding took control and made it happen safely keeping his almost dislodged jockey intact, Amanda's inspirational and positive attitude shone through.

For several hours after the completion of the cross country, the pair enjoyed being in first place on the leader board. Then 15 penalty points were removed from the ultimate winner's score, given initially by a jump judge who believed that rider and horse had not cleared the jump when taking a flag out at it. The question to be answered by the committee was had the horse's shoulder remained within the flags and they decided after much deliberation that yes, it had. Accordingly, the penalties were dropped, and Amanda was now in 2nd place going into the last phase of show jumping. Unfortunately, rails were dropped and so too the pairs final placing. Amanda and Just Kidding finished fourth, an admirable achievement nonetheless but just not what Amanda and almost the entire NZ equestrian community wanted. It was in a word, disappointing.

But then a swell of national pride was restored, when Amanda, shortly after this round was interviewed live. She fronted the camera with a fresh faced, genuine smile, then calmly and confidently, told us all, "I was really proud of my horse. It wasn't like everyone jumped clear, so it was one of those days where you expected the worst and if it got a little bit better than that, it was a good day. I obviously was disappointed, especially with the first fence. It's not a rail I like to have and in my mind is avoidable 90% of the time. But you become resilient in this sport. It is never smooth sailing for anyone. The best riders in the world don't get there from it being easy and it's good to remember there are just as many lows as there are highs."

Maybe the lows do lead to the highs being even higher. When Amanda was asked how she kept her cool after this particular show jumping round, and generally, how does she deal with disappointment, she said, "When you have a bad round, or a bad day, actually the first thing to do is just take a breath. Usually, the first thing riders do is panic. I used to do that but now I take a step back and ask myself what I could have done better. What did I do wrong? And then I ask my coaches. As soon as you can learn to ask others then accept the feedback, the better off you will be. It is an important headspace to get into. Having the mindset of looking to improve and not getting hung up on what's just happened, is important. You can't do a thing about what's happened, so there is no point stressing about it."

We suggested that maybe a lot of people at such a time as losing the 2nd placing in Adelaide, by knocking rails down, may climb under a blanket and certainly go off the FB and Insta radar. To which Amanda pointed out that unfortunately there are probably going to be more lows than highs in this sport of eventing. "It's a real test of resilience and not just for the horses, but the riders also. Eventing is a tough game."
These days, Amanda is sure to advise people to be certain to celebrate the highs as there will likely be way more lows. "When there's something to celebrate go ahead and celebrate. Don't let those times pass by."
During big competitions, Amanda is surrounded by a strong support network comprising of specialist coaches, management, farrier, physio, vet, the other competitors too and her working pupil, Kelly Frewin. Kelly will be leaving Amanda in February after 2 years working for her, to study at university.
Amanda's parents are an integral part of the support crew. "My parents have always been supportive of this sport. There's obviously a big International history beginning with my grandma and then my mother too. My dad grew up on a sheep and beef property out on the East Coast, and the only way around the farm was to ride horses. So, Dad certainly knows how to ride, and he has experience handling horses. Both my parents came to Australia to support me and they continue to do so daily. Mum's taken a step back during the past few years, but this has allowed me to grow into the person and the rider I am now and to create a business of my own. Mum still comes to the events as she loves being involved. And I'm grateful to have an extra pair of hands. Dad also grows hay especially for my horses."
Going clear and undertime in the 5* cross country at Adelaide was one of the biggest highs for Amanda in her career so far. "It still hasn't really sunk in."
Amanda admits that Ferg is the horse most special to her, having owned him since he was five and producing him up the grades. "I love his cheeky attitude. When he wants to be quick you are very lucky if you don't end up on the deck. I think his quickness is what makes him so good on cross country."
In 2016 Amanda and Just Kidding won the 4* at the Taupo National Three-Day Horse Trials. However, he was green at that level and had a sticky moment in the water.
"He gave himself a massive fright and came out the next season, refusing to go near water. Getting him back to where he is now was literally a two-year long process."
Amanda and Ferg had multiple stops on cross country all season at the water jumps and they had to retire at Puhinui as he would not go anywhere near the water complex. "Not many people at that point thought I was going to be able to get him back from that. And neither did I. This was the lowest part of my career. Spending six years getting a horse to a great level and then suddenly, one fright, and he's not good enough anymore because he won't jump into water. There were plenty of days that I thought about giving up on him. As the old saying goes, you can lead a horse to water…."
Amanda is of course pleased that she didn't give up on him and that as tough as it was, she continued to push through. She stayed motivated in the knowledge that he would do great things if only he could overcome his fear of water. Lots of repetition and training has gone into overcoming this major issue. Amanda took him through as many low water jumps or rivers as possible but mainly spent a lot of time with him actually just walking up and down a bank, in and out of the water, to let him understand that he could step into water again and that it was not as scary as he thought. "I did spend a lot of time training him. He'd go at least every 10 days for water training. During those couple of years, he went somewhere to play around with water on a very regular basis. I'd have him on a loose rein and let him play in the water if I could get him to. I took time getting him to the point that he would walk up and down a bank with it not being a big deal at all."
In order to assist with keeping his confidence up, Amanda ran him in a lot of lower level classes. "He was run in 2* or 3* classes during the season and then I'd pick a target event to run him at 4*. He doesn't run 4* a lot, so he doesn't place highly in the overall series classes. This is due to the lower levels that I tend to keep him at. He has around 8 events in a season, 4 in spring and 4 in autumn and out of that most are lower levels."
Leading into Adelaide, he only did one 2* run and two 3* runs. He didn't do a 4* run at all. This Autumn he will do a 3* star run before Horse of the Year 2020, where he'll do the 4*.
Amanda has not always been so set on being a professional rider. When she first left school, she was more focused on hockey than horses and she barely rode at all in that first year. "Then it got to a point where I had to make a decision between the two sports. At the end of the day, I decided that I really enjoyed training and working with horses every day. And I didn't feel the same way about hockey. As much as we equestrians all love the competitions and winning, if you're going to make a career out of it and be a professional, you have to enjoy the day to day working with horses and genuinely love them."
Amanda's team comprises of Just Kidding, The Comedian, Good Timing and Good Value. The Comedian, otherwise known as Perry, has just stepped up to 4* this season. "My favorite thing about Perry, is how he is the joker of the team. He's the favorite among those who work alongside me. He'll walk around the paddock holding his feed bucket high reminding me it's time to fill it for him. He has so much personality."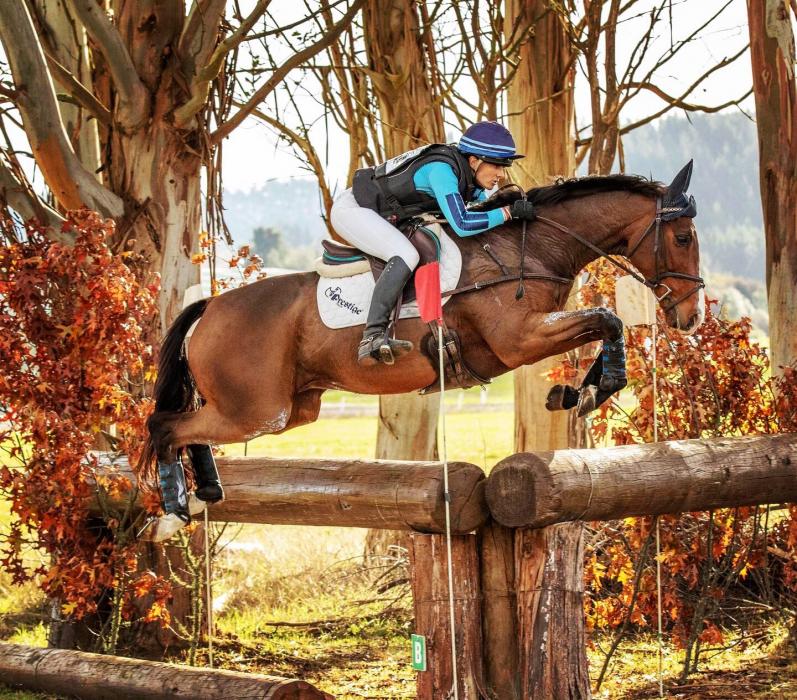 Amanda and The Comedian.
Another member of the team, Good Timing, is the groom's worst nightmare. "He is a complete brat. But for a thoroughbred, he is the best jumper I've ever sat on and probably will ever sit on. He is a promising horse for the future. I've competed up to 3* on him and done a lot of straight showjumping, including placing 3rd in the Seven Year Old Horse Of The Year title class 2019."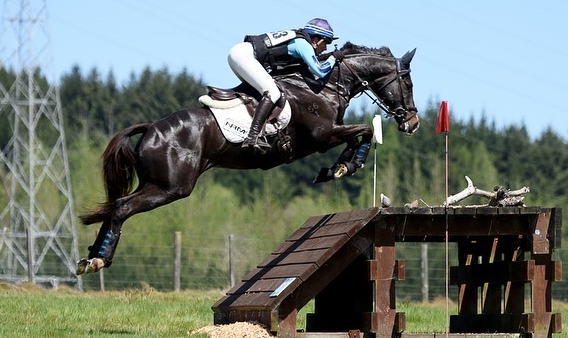 Amanda and Good Timing.
Amanda also owns his full younger brother, Good Value. "They could not be more opposite in looks and personality. But they both have similar characteristics in terms of quickness and spookiness, so here's hoping that he jumps the same as his big brother."
What Amanda loves most about working with horses is seeing the improvement, particularly with young horses. "In recent years I've found I also really love sharing success with horse owners. It's so much more enjoyable celebrating a win with a group rather than celebrating it on your own. Even if they don't own the horse I take to Australia, they're all still involved and supportive."
Amanda is passionate about schooling her client's horses and having regular coaching on them. She really enjoys knowing that she's improved them. She also coaches riders weekly and loves to assist them. "Everyone is very appreciative even over the smallest of things."
What Amanda will not do, is sell on behalf. "I don't enjoy it and I'm a bit too honest when it comes to selling horses."
Recently, two coaches who Amanda has found to be extremely beneficial to her riding and business are Jock Paget and Jeff McVean. "Jock has been instrumental in improving everything not just for me but for all the young event riders coming through. He's fine tuned my riding in the last couple of years. I used to consider myself quite a slow cross-country rider. I really struggled to be undertime and here I am, just gone clear under time at an International 5*. I genuinely never thought that was possible for me and Jock made that happen. He's also been great as a mentor for setting up my own business."
"Showjumping was something I really struggled with for a while. I used to get quite nervous and was never sitting on wonderful show jumpers. Jeff McVean has helped me make a huge difference in that area. I know you'd look at Adelaide and think that it isn't true. But I went into the ring relatively confident in my riding and ability, which is a huge part of my show jumping success. Jeff has given me the confidence to be able to go in and ride well."
Another coach who Amanda found extremely influential in her younger years is Penny Castle. Amanda started lessons with Penny when she was just 17. "Even though Penny is purely a dressage coach, she has been there for me as a wonderful mentor and someone I can make plans with."
Amanda's next big event with Just Kidding is the Horse Of The Year 2020 and afterwards, she is planning to go on a UK campaign with him. "There's lots of stuff up in the air yet. But Ferg, needs to go and do something more. He's ticked a lot of boxes here in NZ and in Australia and I've got to make the most of him while he's fit and well."
WORDS The Team at iSpyHorses

Photo Credit & Copyright Take The Moment
© iSpyHorses
---