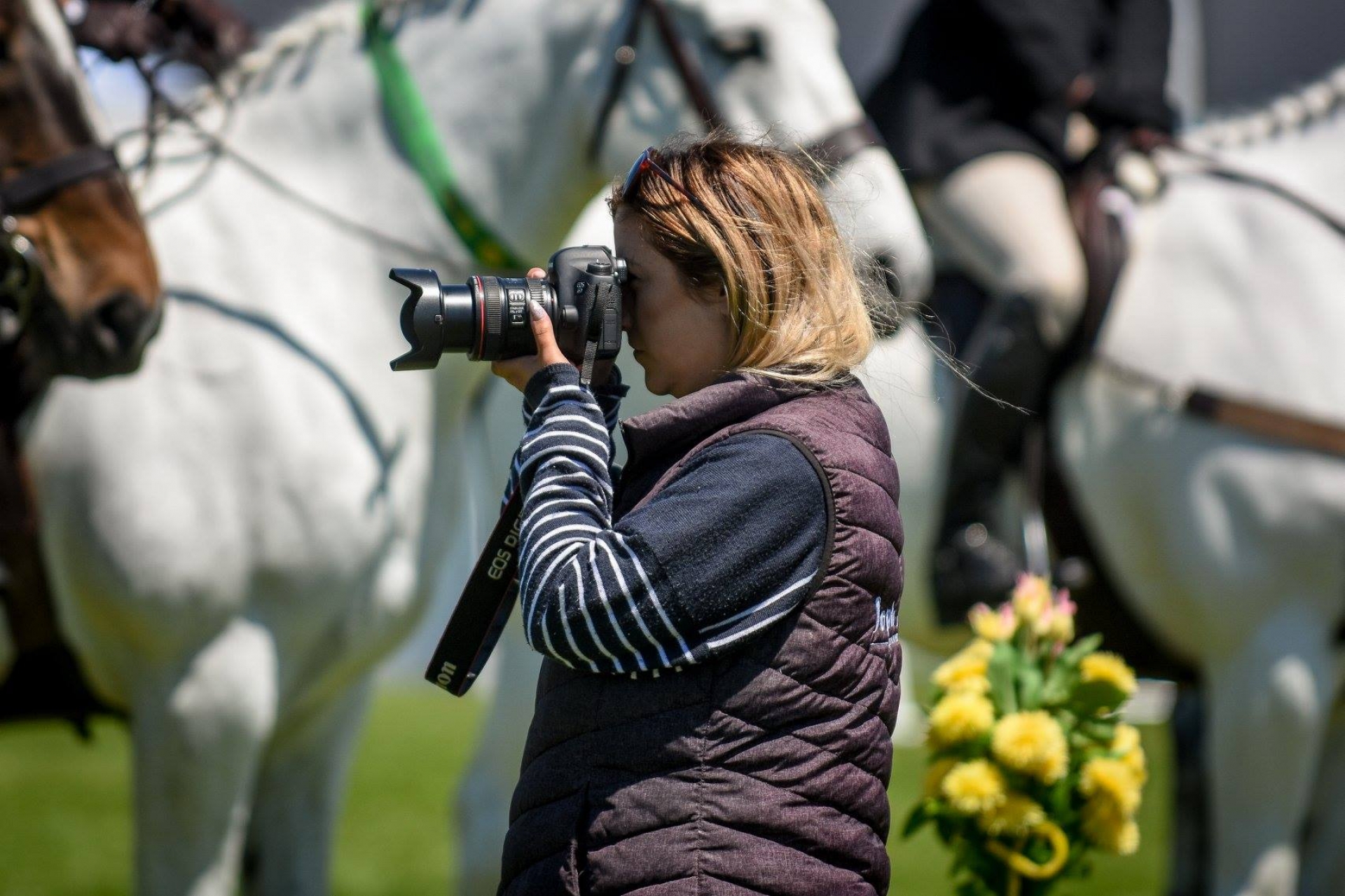 InFocus
---
MAGIC MOMENTS
iSpyHorses -- Sun, 01-Dec-2019
Specialist equestrian photographer, Sophie Simson is well-known, talented and intuitive, proving time and time again through her images that she has a gift for capturing just the right moment. She's seen brilliant times of equestrian activities, the worst of times, everything in between and across many different disciplines.
Originally from Masterton, Sophie, 34, has always had the photography bug and she has always loved horses. These two interests blended well together. From age 5, Sophie lived with her Grandmother in Christchurch and spent many years going to the racetrack and riding her cousins' ponies. Sophie recalls being 6 when she was given her Mum's old film camera.
"It was this horrible pink thing. I would take it to my aunt's farm and photograph all the horses and dogs. Then I'd have to wait about a month to get the photos developed and of course they were all terrible."
Fortunately for the rest of us, Sophie was undeterred and enjoyed taking photos so much, it soon became one of her passions. Her other passion was for horses and Sophie began Eventing which she kept up until she was 18. "Horses were my escape. A way to get away from everything. My horse was my best friend. I love everything about horses. Their smell. Everything."
It was some time after her riding days were over that Sophie once more found herself back in the company of horse people. But she didn't want to ride. This is where her photography kicked in. It had been put aside in the belief that it would always be a hobby, but now Sophie, recognized the possibility of making it a career. "It dawned on me that taking equestrian photos maybe was something I would not only love to do but also I could make it a career. I went out right away and bought a new camera."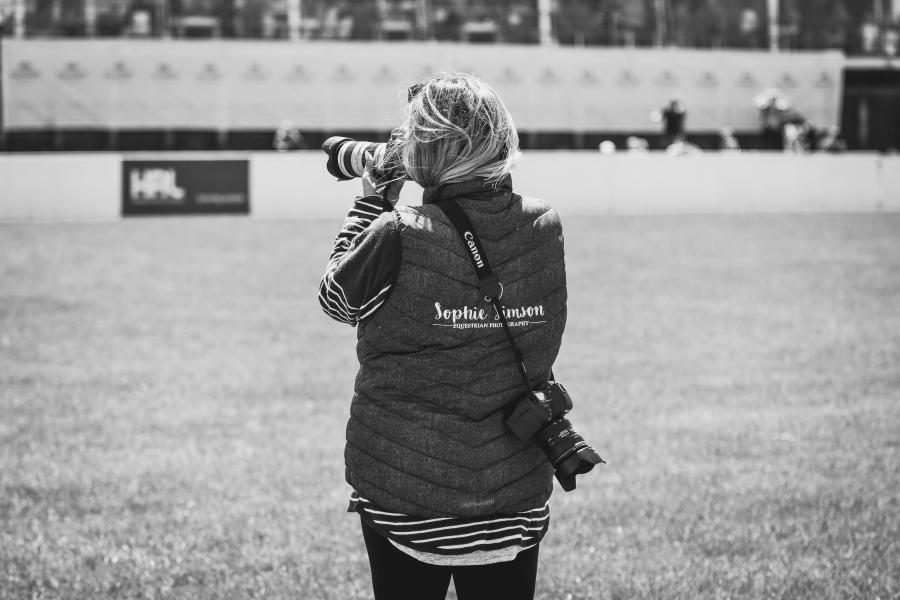 At first, Sophie found it hard to become well known within the equestrian photography scene. She also had to practice a great deal and develop a technique to suit varying requirements. At first when Sophie was taking photos, she studied the more experienced equestrian photographers of the day and was interested in how they all managed to take brilliant photos but were all using a slightly different technique.
By attending many training and practice days, Sophie soon found her own style. "It took a while to get the timing right. But it helped that I was also a rider. I could judge the timing a bit better than someone who doesn't understand horses."
Other professional photographers were very welcoming to Sophie, and they gave her lots of tips and hints and advice. They encouraged her to apply to work at different events such as Christchurch A&P. From there, Sophie went on to cover all the local Pony Club shows and Canterbury Eventing Horse Trials.

"What I really enjoy about taking equestrian photos is following the riders who you come to recognize at the different events. I can track their journey in pictures. They often go from being nervous, worried and jumping the lower heights to only a few months or sometimes years later, competing confidently at way higher levels."
Sophie also loves when by chance and by being the right person, in the right place, at the right time, she captures a magic moment. One of these occasions was when Sophie captured Steffi Whittaker's young stallion, held ringside by Steffi's mum. Steffi is walking her showjumping course and she's just smiling and sort of pointing at him and he's looking right back at her. Not long after this, the stallion was sadly put down. Of course, nobody knew that would happen. Sophie and everyone involved, greatly appreciated having this special moment recorded forever.
Recently at Eventing Canterbury's latest event, it was wet and windy, and just when Sophie may well have questioned why she had even bothered to be there, children one after the other were galloping passed her and acknowledging her. Some called hello. One young rider gave Sophie a big thumbs up. It was heartwarming for Sophie, and she knew then why she had braved the elements. "Being appreciated, makes everything worthwhile."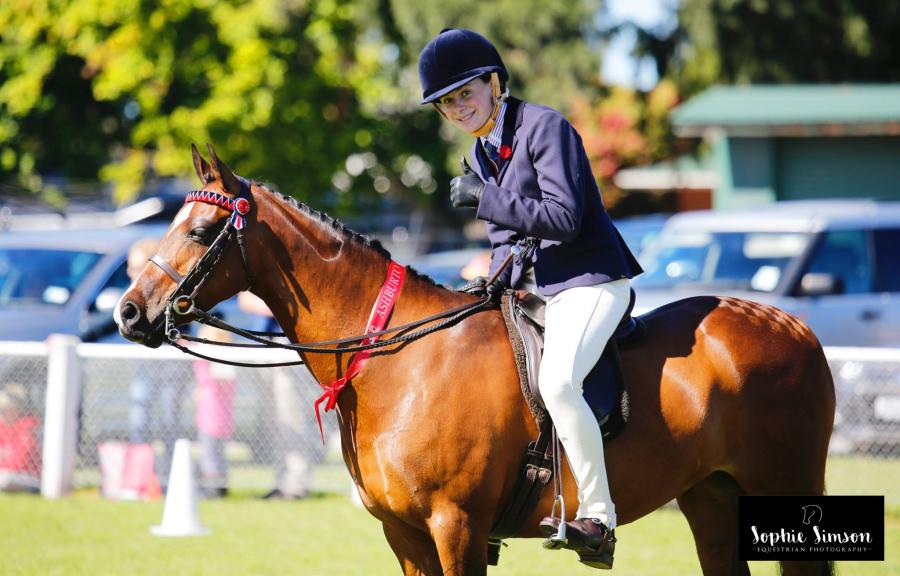 It was when Sophie was contacted by magazines for her photos that she felt validated and pride for the recognition of her work. "I always thought I'd be that smaller photographer who picks up everyone else's days that they can't do. So, to get a phone call to be asked to cover an event for a magazine was pretty cool."
Sophie's advice for up and coming equestrian photographers is to not give up. "If you're passionate about it, just keep doing it. I'd also have to say respect the official photographers and chat to them. I love it when people come and ask me how to tackle something. And I also like to get their ideas, about what photos they think riders may like. "
Sophie has attended some photography courses with a professional photographer who focuses more on weddings and portrait photos. "It was amazing to be in a class, surrounded by so many people all with different interests. Someone wanted to shoot motocross, some wanted to shoot car racing."
Initially, Sophie found that getting all the settings right was a bit challenging and to capture horses in black and white was difficult as her camera didn't want to pick them up. The courses were beneficial although most of Sophie's learning is done in the field and on the job at equestrian events.
Sophie loves when she's taken a photo, quickly glanced at it and instantly recognizes that it's brilliant. The least favorite part of the job is the editing. "When I first started photography, I was quite trigger happy and took lots. Now I'm more particular. I may take a thousand photos but I only put half of them up. I look to get a variety rather than just the same old image."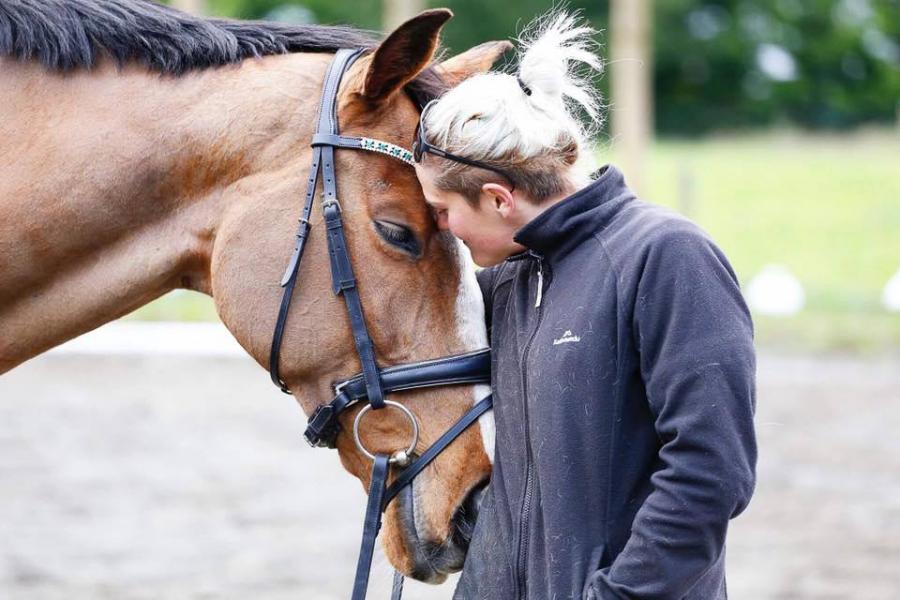 As well as being an extremely talented photographer, Sophie juggles a busy family with three young children. In 2017, Sophie had her youngest child and there were a few complications. A few months later, Sophie was rushed to hospital by ambulance. In extreme pain, she knew that something was very wrong. She was immediately diagnosed with serious anemia and given several blood transfusions. Then suddenly, she was being scanned with MRI's and CT's. It was only a couple of days later, when Sophie was given the devastating news that she had a very advanced, stage three, cervical cancer. "It absolutely blew me away. My specialist showed me the MRI scan, saying this is where your cervix is meant to be, and we can't see it at all."
Initially the doctors did not know what the outcome would be for Sophie. Chemotherapy and radiation continued for six weeks and then the Brachytherapy began. "It is quite a medieval type of treatment. A metal thing is inserted into your cervix and radiation is then administered in a much more intensely localized way. It was terrible. I just wanted to be left alone."
It was at around week 5 of this treatment that Sophie became ill. "I was probably out of it for about ten months. I lost 34kg which was brilliant but clearly not in the right way."
The treatment concluded and then the waiting game began to see if the treatment had been successful. Throughout the entire process, so many of Sophie's clients and horsey friends were very supportive, dropping off dinners and taking her to treatments. "The backing that I got was amazing. I have one of my nurses on speed dial if I need her. She is always there to help. The doctors said I wouldn't come right for about a year afterwards. And it was only 7 weeks later that I decided to go try and cover a Three Day Event. It was probably a bit too early. But I got a taste of my love of photography again and that taste motivated me to come back."
Sophie believed that by being positive, she would likely increase her chances of survival. "I didn't even read the information the doctors gave me. The way they presented it. They were always so down. I just said I don't need that around me. Looking forward to going back to my photography work kept me positive."
Sophie has heard of many other women who had the same kind of experience and their positive stories made her more hopeful. "It was wonderful to be in the company of such strong women."
Sophie is now back to her usual self, although she is always a bit tired with three children keeping her busy. Her middle child Ava, 8, is also horse and photography mad, just like her mum. When she tags along to horse shows, Sophie gives her a camera to play around with.
"It worries me a bit as she's actually really good. She may take my job if I'm not careful!"
WORDS The Team at iSpyHorses

Photo Credit & Copyright Michelle Clarke and Sophie Simson
© iSpyHorses
---