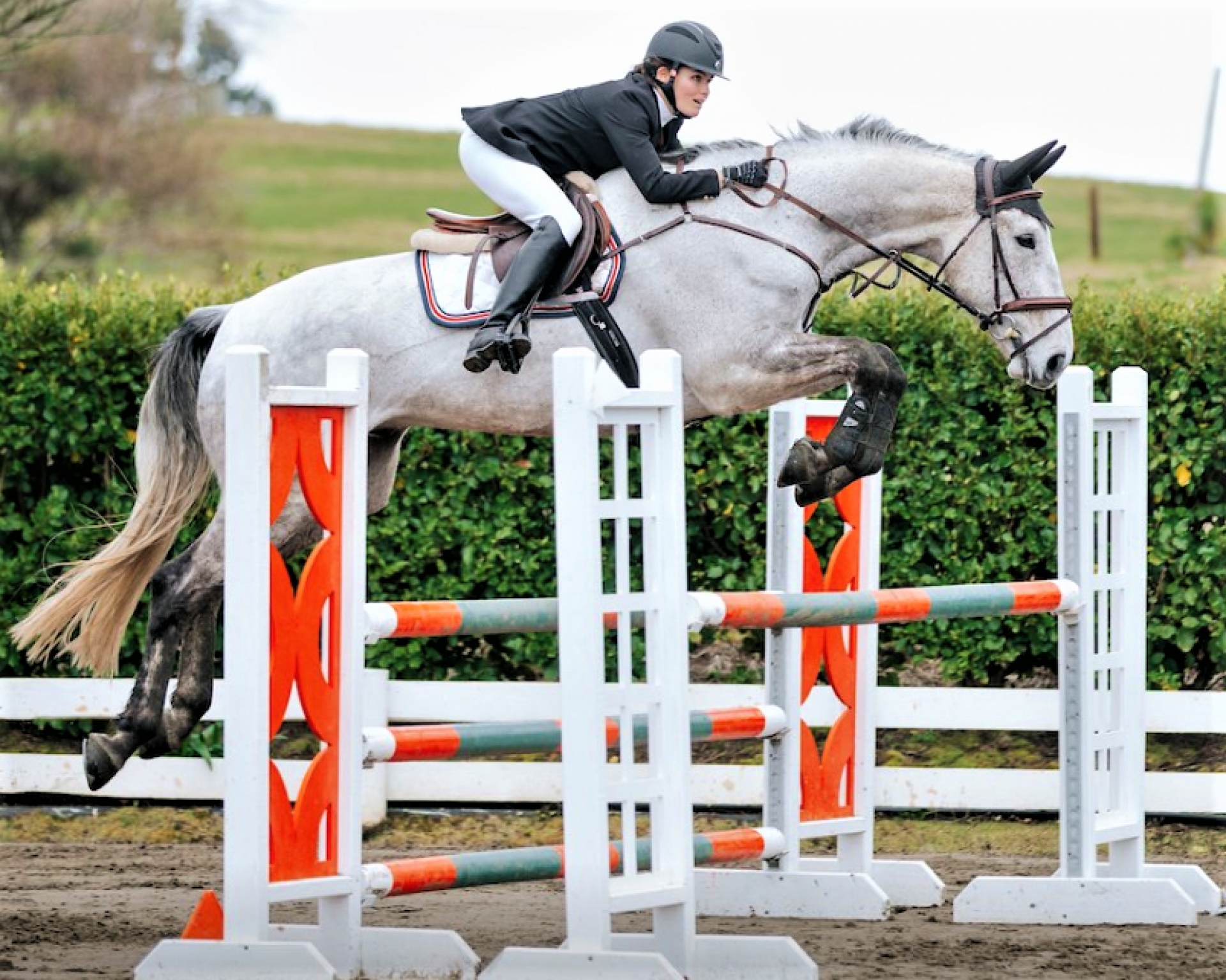 InFocus
---
THIS VET MAKES IT HAPPEN
iSpyHorses -- Thu, 21-Nov-2019
This vet makes it happen, a demanding professional career and two up and coming highly competitive showjumpers. Jordana Del la Varis, 27, is a dedicated Equine Veterinarian currently working at Vet Associates Equine and Farm, in Karaka, Auckland. When Jordana is not being her equine vet self, she is more often than not with her own horses. A regular show jumping competitor, Jordana owns two horses. Her striking mount Gabriel HH, fondly known as Gabe is an 8 year old gelding and he stands at a whopping 173cm. Jordana loves his size. "He has no idea how big he is. He thinks he's a lapdog," she tells us. "Gabe is definitely more like a labrador than a horse. If I left the door open to my house, he'd be inside on the couch hanging out with me. He literally eats anything and is obsessed with people."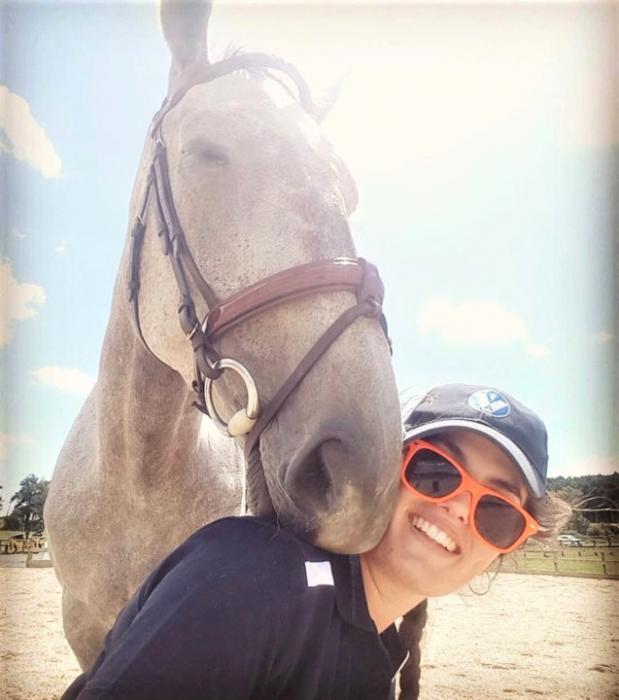 Jordana and Gabriel HH

The pair recently stepped up the heights and competed together in their first 1.20m and Amateur Rider Classes. They competed at Equidays and the North Island Showjumping Championship show this year.
We asked Jordana what is was like to now be competing at bigger competitions.
"I'd competed in beyond the barriers classes at Equidays a couple of years ago. But had never show jumped there," she said. "And it was fantastic to be doing bigger competitions. I loved the atmosphere. It was such a good experience for Gabe and me. It was an eye opening experience and is probably what makes me more confident now for Gabes' future, given how well we coped. He got in the ring and knew his job, locked onto business, and went fantastically well. He wasn't distracted and I think he really enjoyed being in the ring with everyone's eyes on him."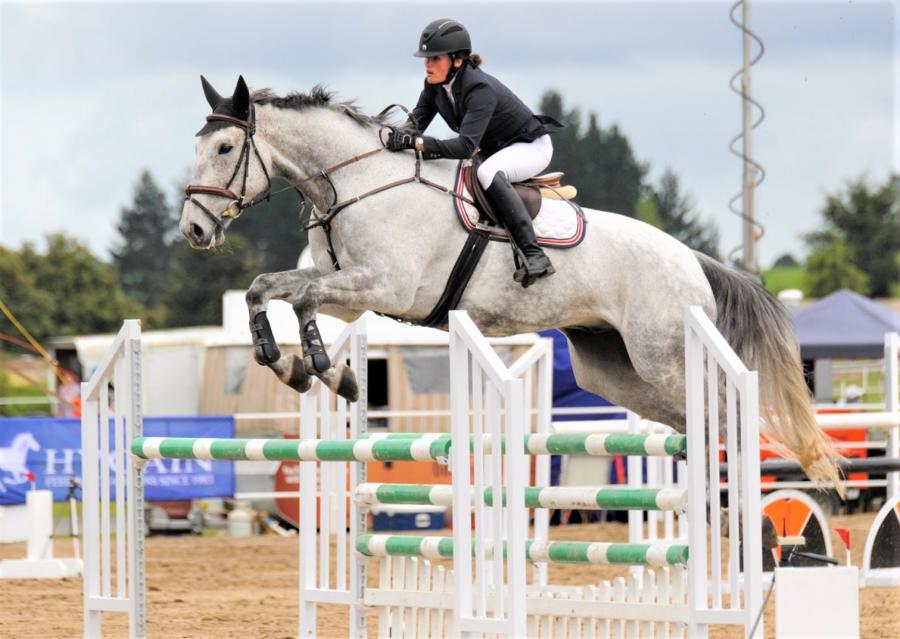 Jordana and Gabriel HH in the Amateur Rider class at Equidays 2019.

Jordana and Gabe have been a team for a little over two years. Jordana went into partnership with his breeders Alice and Cathy McKay, got him broken in and started schooling him from scratch. "Producing a horse yourself really establishes a fantastic bond, mentally. I can just think about doing something and Gabe will pick up the most subtle change and react straight away what I want. We know each other so well," Jordana said. She has worked extremely hard schooling and preparing him for this season. "He only did his first 1 m class a year ago. So this is his first proper season showjumping and he's moving up the ranks really quickly. My goal was to maybe finish this season doing 1.20m but over winter he flew through the heights, so I started this season at Amateurs." Jordana isn't too concerned that they haven't placed in the top placings just yet. She says, "This season is really just about him establishing himself."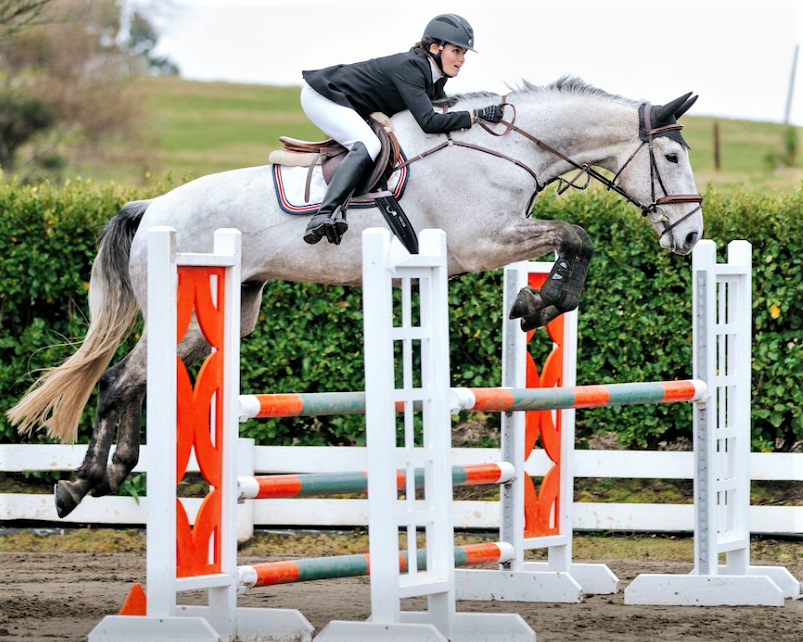 Jordana and Gabriel HH in an Amateur Rider class at Woodhill Sands.

Jordana has a second horse, Larry, a five year thoroughbred, that she bought off the track last year. He is currently competing at 90cm and she hopes he will finish the season in the five year old series classes. Larry is very different to Gabe, and we asked her what it is she looks for in a horse.
"Brain and heart are my two big things" she said. "Obviously conformation is probably the first thing to check. That they're conformationally correct and well put together for their breed and size. But you can only work with a horse if they want to work with you." After being around horses all of her life, Jordana has some valuable advice for others looking to buy their next horse. "If they want to be doing the job that you want them for, then you can overcome a lot of things. If they're not the most athletic horse, you can still go a lot further with a good brain and a big heart than a horse that's super talented but doesn't want to be there. Both my horses try so hard for me and they want to do a good job for themselves as much as for me. That's probably what I really like most in a horse. Their desire to do well."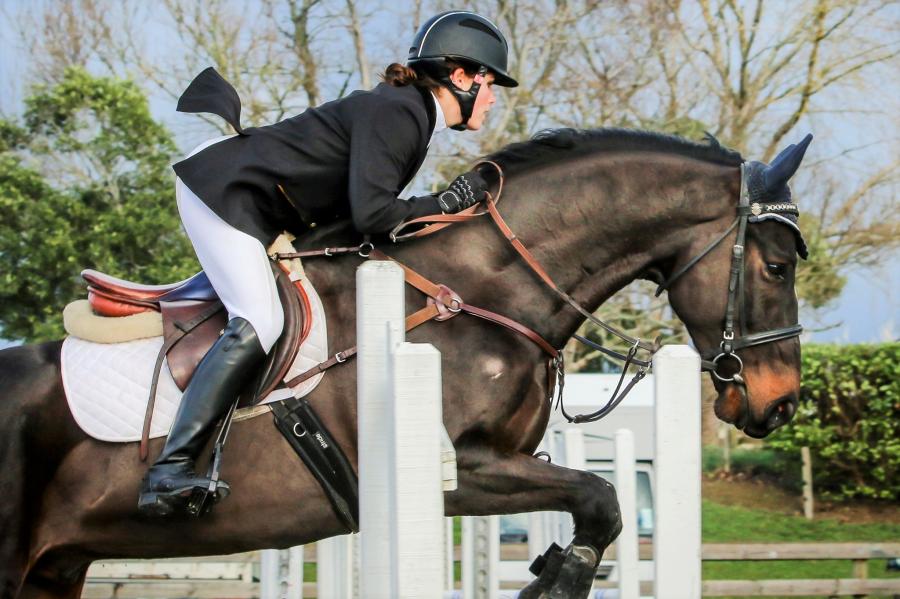 Jordana riding her off the track thoroughbred, Larry

Jordana studied Veterinary Science at Massey University from 2010-2014 where she graduated with distinction. She then went on to accept an internship at Matamata Veterinary Services (Equine). After completing her internship, Jordana travelled to Europe where she groomed on the international eventing circuit and had some experience at an equine veterinary practice. Jordana absolutely loves working as an equine vet and is grateful that her work is something she is passionate about. For as long as she can remember, Jordana has always wanted to be a vet. "Mum and I were going through some things at home the other day and I found a little 'What do I want to be when I grow up' note, from when I was five and my answer was that I wanted to be a vet. I grew up on a small sheep and beef farm in Kumeu, in West Auckland, and we always had horses, cattle, sheep, chickens, goats and dogs. You name it we had it! So I was well aware of the need for vets and how much good they could do. I really admired them. I planned my schooling subjects very early on to align me best to get into vet school," Jordana said.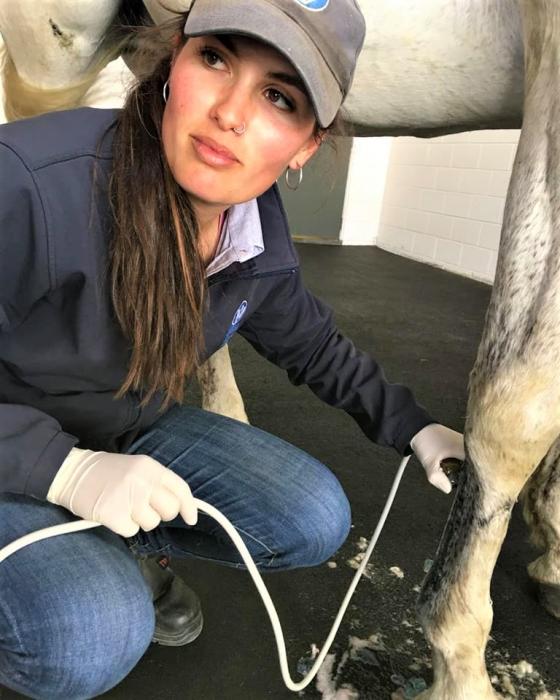 Jordana in her element, scanning a patient at Vet Associates.

Jordana's favourite part of the job is helping people and their horses, then seeing everything coming together. "When you get a horse that's not going right, you figure out the problem. Help get them sound and then they're out there competing and winning again. That's the most satisfying part," Jordana says. "And even those that aren't competing and are kept as pets, are equally important to me. Helping a horse through a potentially life threatening issue to being a happy, healthy horse that the owner can enjoy is what really keeps me going."
We asked Jordana what advice she would give to someone juggling horses and a busy job as she does.
"Time management is important and you need to have the passion for both. If you don't love what you are doing, whether it be riding or working, then you're not going to want to go out of your way to do it as best you can. Because I love my job and I love riding and competing, I make it work." Jordana is extremely dedicated to her horses, her job and living a healthy lifestyle. Her normal routine is to get up at five in the morning, go to the gym and then ride one of her horses before work. She rides her second horse in the evenings after a busy work day, and before hitting the gym again. You'd think Jordana wouldn't have time for anything else, but she manages to squeeze one more unique hobby into her busy lifestyle and that is skydiving. She has skydived over two hundred times so far and absolutely loves the adrenaline rush, comparing it to the feeling of doing a show jumping round.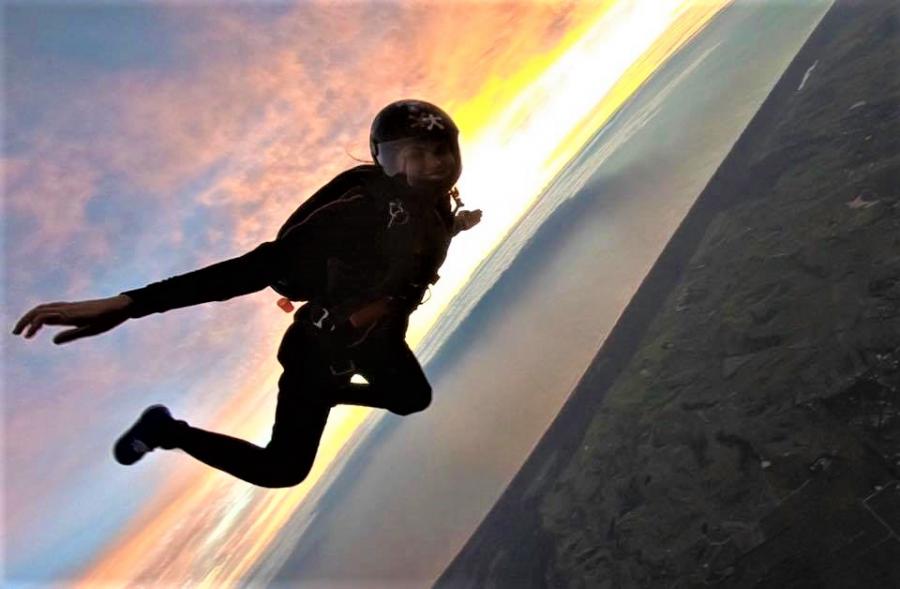 Jordana enjoying an early morning skydive

Jordana is a perfect example of how dedication and hard work does get you to where you want to be. She is an inspiration to all equestrians and up and coming equine veterinarians who share the same passion and drive. Her next goal is to make the final of the Amatuer Rider class to be held at Horse of the Year 2020.
We hope to see her there and wish her all the best with her future endeavours.
WORDS The Team at iSpyHorses

© iSpyHorses
---