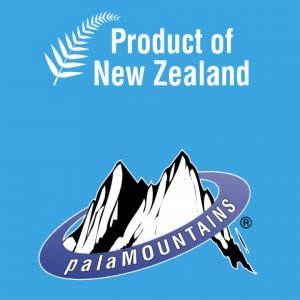 Category
Website:
Location
---
Services
---
palaMountains
Established as innovators in the animal supplement industry, palaMOUNTAINS brings you a unique range of oil-based products designed to improve the overall health of your animals.

palaMOUNTAINS supplements are a worlds-first - a scientifically developed formulation with international renown scientists at Massey University, New Zealand. The liquid formulation protects the vitamins and minerals and has up to 99.5% absorption rate.

For more information please contact our friendly team

Our Products:

palaMOUNTAINS Equine Bone & Joint
For all Breeds of Horses
Liquid supplement containing Glucosamine, Chondroitin & Biotin for bone & joint health, mobility & hoof condition in horses.

palaMOUNTAINS Extreme Equine Plus
For Race / Endurance Horses
A non-heating multi-vitamin & mineral liquid supplement which is proven to deliver superior health benefits for horses. Also contains Creatine for increased strength and muscle hydration.

palaMOUNTAINS Equine ShowOff
For Breeding / Showjumping Horses
A multi-vitamin & mineral liquid supplement for horses to assist with skin, coat & hoof condition, performance, digestion, fertility and overall health with added Magnesium.

palaMOUNTAINS Equine Pre-Boost
For Recovery & Rehydration
A liquid multivitamin & electrolyte supplement for preparation and recovery in horses while competing and travelling.

palaMOUNTAINS Omega Enriched Oil
For all Breeds of Horses
A highly palatable oil for horses to provide an extra source of energy and also offers additional benefits to the overall health of your horses.

palaMOUNTAINS Premium Animal Wash
For All Animals
Containing Citronella, a natural insect & fly repellent and a unique coat enhancer for vibrant colour and brilliant shine for all animal breed colours.

palaMOUNTAIN REPALA Body Spray
For All Animals
An insect repellent and body spray containing natural anti-bacterial Citronella & Lemon Grass, natural antiseptic Tea Tree which assists to relieve inflammation & Witch Hazel for its Anti-inflammatory & anti-oxidant benefits.