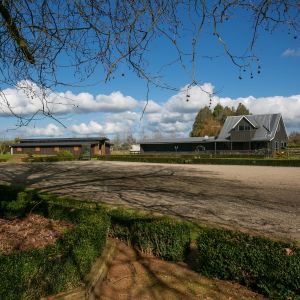 Location
Listing ID:
Listing Type:
---
Horse Properties
---
Equestrian Excellence - 440A Marychurch Road, Tamahere
Follow the beautiful cherry tree lined driveway to a myriad of options. Turn left at the fork to go past the mature fruit trees and up to the main house which boasts large open plan living and dining, with an entertainer's delight of a kitchen. The hallway leads to two large double bedrooms, bathroom and large boot room with separate toilet. The double garage is carpeted and insulated with plenty of extra storage space. This is a surprisingly large home where you can enjoy sitting out on the peaceful and private patio, gin and tonic in hand, and watch the horses work in the Olympic sized dressage arena.
Taking a right turn will lead you to the working side of the property and the list is long here … a second arena, 10 sand yards, 8 stable (unused) barn, huge truck shed, wash bay and a further three loose boxes and tack room which are connected to a cute as a button two storied cottage with two bedrooms and two bathrooms finished off with box hedging raised vege gardens ( and an amazing mandarin tree)
All this is set on 6.3746ha of flat well fenced land. 23 paddocks are accessed via a central race on this working side making it a breeze to get horses in and out while behind the main house larger paddocks lend themselves to turn out or making hay.
So close to both Cambridge and Hamilton, this is an equestrian property , that is so well set up, you can just move in and start living the dream.