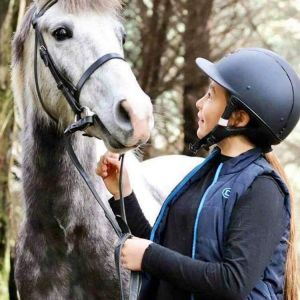 Pony for sale
---
"Talented project pony"
Age
Discipline
Height
54 Inches | 137.16 Centimeters | 13.2 Hands
Breed
Price
Sex
Location
Listing ID:
Listing Type:
---
Oki Doki Loki "

Amazing project pony with a POWERHOUSE jump!!

Loki is a 5yo grey pinto gelding. His exact breeding is unknown, but we know there is some welsh in there somewhere.

This stunning little pony has established walk, trot and canter paces with an outstanding, careful jump. He is very snappy in front with perfect knees and a powerful backend, easily clearing 1.25m at home. I would consider him a forward pony; however, he has a responsive mouth and good breaks.

We bought Loki as a pony for my at the time 10yo daughter. With us he has gone to pony club, attended pleasure and show hunter shows, the beach, forest and various local arenas. We have had extremely positive comments from show hunter judges, saying he will be an up there pony with more mileage. He has had minimal exposure to games but turns on a dime and has the speed to excel in this discipline.

We have realised that Loki needs to be with an older, more experienced rider as opposed to being a child's pony at this stage of his life. He gets very bored with schooling and needs to be kept busy, this has been a hard task for my daughter who wants to focus on her riding, not keeping a young mind busy. Unfortunately he tested the waters and got away with some quirky behavior (happy to discuss). We sent him to an older rider (15) and he went amazingly well with a more established rider that can give him clear boundaries and confidence.
He does have is cons, however I think most will go with maturity and a firm hand. He will paw when food is around, can get nappy when in a mood, will toss his head when bored (goes away when has a job), and is pushy on the ground especially in paddock.

Loki has come back home and has not put a foot wrong, however we have downsized to 2 acres so don't have the room for him and he needs his own person. He is very loved so will only go to the best of homes. Ideally needs a confident teen to bring him on and show him the ropes.

Price is negotiable, will sell sight unseen to 5* home.