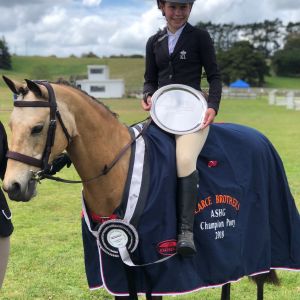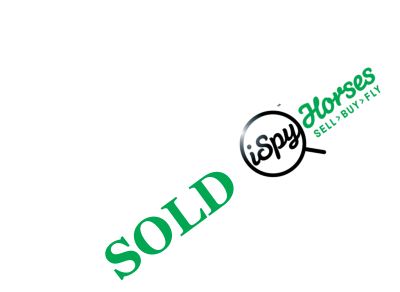 Pony for sale
---
Superstar Cat A Show Hunter Pony
Age
Discipline
Show Hunter, Show Jumping.
Height
51.18 Inches | 130 Centimeters | 12.3 Hands
Breed
Price
Sex
Location
Listing ID:
Listing Type:
---
*2017 CATEGORY A SHOW HUNTER PONY OF THE YEAR*

Rhythm N Gold ( Bess )

We have had the privilege of owning our special pony Bess for the past 2 years and she has taken my daughter from being nervous jumping 60 cm to winning rounds of Show Hunter at Horse of the year . In the time that we have owned her she has become a big part in our family, but unfortunately my daughter has grown to big for Bess, so it is time for her to teach another small rider the ropes of Show Hunter.

She has a superb jumping technique, fully established flying chatnges , and 3 smooth paces . She has regular lessons with top jumping coaches and doesn't have any dirt or vices whatsoever . She has done everything including show jumping, eventing , dressage , and pony club, however Show Hunter has always been her main focus. She is a absolutely dream to have around in every way and is truely a mothers dream pony .
She is happy to hack out alone or with others , fine to travel , shoe , clip , swim ect. She is super safe to be ridden bareback with a halter and has been accustomed to motorbikes , guns, dogs , cats , deer , and cows so is she is completely bomb proof . Just a stunning all round pony to learn on and have fun with, as well as picking up wins and placings along the way

She has competed at Hoy 5 times with placings each year, Including winning the Cat a title in 2017 She never fails to come home after a busy weekend with at least a few ribbons. She has too many titles and placings to name , so here are just a few recent highlights

-Agrodome North island pony classic 2016/17
-Ashg overall champion pony 2016/17
-Cat a show hunter pony of the year 2017
-Agrodome north island pony classic 2017/18
-Ashg overall champion pony 2018/19
-Overall cat A pony Woodhill sands winter series 2018
-4 th chookys auto equitation series 2018/19
-1st Hoy 2019 handy hunter
-1st hoy 2019 60 cm
-4th hoy 2019 70 cm
-6th hoy 2019 equitation
-Top ten in almost every other class at hoy 2019
+ many other results to her name


Bess is very special pony to our family , and will only be sold to a 5 star knowledgeable home . She would ideally be suited to a smaller rider wanting to start getting super competitive on the Show Hunter circuit. Please genuine enquires only as this is a very hard sale for us . Please call or email at Craigandtoniduncan@gmail.co.nz for more photos, videos or info regarding this wonderful pony.