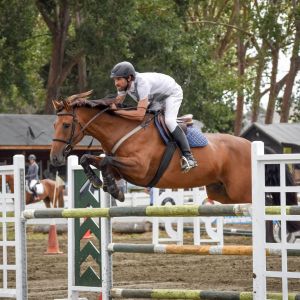 Horse for sale
---
Quality Show Jumping Mare for Pro Am or Professional Rider
Age
Discipline
Height
65 Inches | 165.1 Centimeters | 16.1 Hands
Breed
Price
Listed date
Expiry date
Sex
Location
Listing ID:
Listing Type:
---
IMAGINE - Stable name: Molly

Sire – Corafino
Dam – Distelfink x Miss Four

8 yrs old, colour Dark Bay Filly

This beautiful mare always gives 150% and is the perfect partner for a Pro Amateur or Professional Rider.

She has excellent ground manners and is a lovely horse to have around.

Molly is very good with other horses and has no issues with shoeing, floats or trucks.

No kicking, biting, rearing or bucking.

She is trained to the highest standard by James and John Cottle.

She is jumping 1.25 at competition and has the potential to get to higher grades.

Nonetheless she loves to hack out and is in every situation a horse to rely on.

She had one foal as a 5years old and has excellent bloodlines for future breeding.

Below videos from Molly at Woodhill Sands 16th Feb. 2019.

https://www.youtube.com/watch?v=WPuyTc1tLLM
https://www.youtube.com/watch?v=QWBSUaS2NPI

Next competition is on 19th May at Papatoetoe Pony Club in the 1.15 -1.20m Speed.