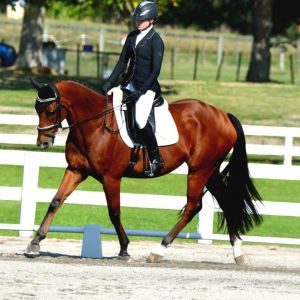 Horse for sale
---
HORSE FOR SALE - DRESSAGE STAR/EVENTER
Age
Discipline
Dressage, Eventing, Pony Club.
Height
65 Inches | 165.1 Centimeters | 16.1 Hands
Breed
Price
Listed date
Expiry date
Sex
Location
Listing ID:
Listing Type:
---
Syd is a 16.1hh 7-year-old TB gelding, who gets lots of comments regarding how wonderful and laid back he is. He truly takes everything in his stride and he is unfazed and uncomplicated.

Successfully competing Level 2 Dressage, he has 3 lovely floaty paces, lateral work, counter canter, medium trot, leg yield, walk to canter all well established and he is now working on Level 3 movements in readiness for next season. He is regularly trained by Andrea Raves, and he is very soft & responsive to ride

He qualified for HOY multiple times in Level 2 Dressage at his first show, including freestyle musical. He truly is a pleasure to ride & take out, with his easy going temperament & workman like attitude toward learning new things.

He is not spooky at all, does not get hot or bothered when out and about and the feel and ride he gives when you are out at a show & in warmup area is just the same as when he's training at home, meaning there are no surprises when it counts.

If you are looking for a safe & reliable horse that is talented and gets results - Syd is for you. He loves variety and is very used to farm rides, opens gates, road ride alone/in company, goes happily and safely to the beach, self-loads onto float, is good to shoe, clip etc.

Ideal for a competitive teenager's first hack or for an adult wishing to safely and successfully compete in Dressage and do a bit of everything on. He is jump trained & evented Pre Nov as a 6 year old and he shows real ability in Dressage. Wonderful and bold X/C.

Some recent results:
RESERVE CHAMPION Level 2 - Wendy Richards Dressage Comp April 2019, with a 1st, 4th and 5th placing.
YOUNG RIDER Dressage Champs, Taupo April 2019, against the best in NZ - 4th, 5th, 7th & 8th.
4th - Waikato Premier Dressage Festival (Feb 2019)
2 x 2nd place Auckland Manukau Dressage Premier League Champs (Jan 2019)

He's never had any health problems and is also up to date with shoeing, dental and vaccinations.

Very genuine and sad sale as rider over committed.