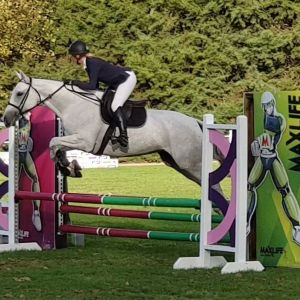 Horse for sale
---
Horse For Sale -Serious quality young mare by Cassiano
Age
Discipline
Height
64.96 Inches | 165 Centimeters | 16.1 Hands
Breed
Price Range
Sex
Location
Listing ID:
Listing Type:
---
Serious quality and very trainable 4-year-old mare.

By: Cassiano
Out of: Mighty Heights/Westminster
165cm
4 years old
Very correct, upstanding confirmation, straight and sound with no issues.

She is 100% brave, super careful and uses her body very well over a fence. She will be a serious horse to produce up to the higher levels of the sport.

Jane was bred at my property; she's had a stunning foal and has since then been started under saddle (by me)
She was started in December 2018. Since then she has had a few weeks spelling, learnt how to work on the flat, hack out alone or in company, jump schooled at home and local arena, competed a two day show where she jumped foot perfect in her two classes (80cm).

Jane is safe, has no dirt in her at all, she was VERY easy to start under saddle. She has a soft and kind mouth, reactive off the rider's aids and has a strong work ethic.

She has an easy going and kind nature. She is awesome to have around and work with. She is the perfect mare for an ambitious rider to continue producing!

$30,000 plus gst
Located in Cambridge
Will only be listed for one month and then spelled, if not sold she will be a FLASH 5-year-old for me to compete next season!