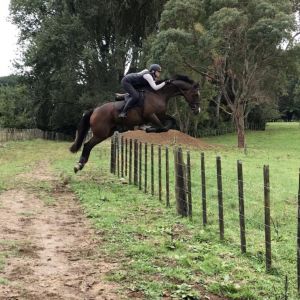 Horse for sale
---
Hunter/Show Jumper/Eventer
Age
Discipline
Dressage, Eventing, Hunter, Show Jumping.
Height
67 Inches | 170.18 Centimeters | 16.3 Hands
Breed
Price
Listed date
Expiry date
Sex
Location
Listing ID:
Listing Type:
---
Dankerr Gold (Johnny)
11 year old bay Thoroughbred. 16.3hh (unmeasured)
Full wire hunter, whips horse for a season and hunted for 3 seasons. Has done one season of eventing up to 80cm, and show jumped competitively to 1.10cm. Schooling higher at home, very brave. Well schooled on the flat. Has lovely ground manners, is easy to have around. Ready to go for the hunt season!