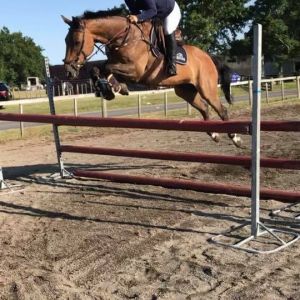 Horse for sale
---
Ultimate Allrounder
Age
Discipline
Dressage, Eventing, Hunter, Show Horses, Show Hunter, Show Jumping, Trekking.
Height
65 Inches | 165.1 Centimeters | 16.1 Hands
Breed
Irish Hunter, Thoroughbred.
Price
Listed date
Expiry date
Sex
Location
Bay of Plenty, New Zealand
Listing ID:
Listing Type:
---
Kingcroft Flynn
Laughton's Legend/TB

16.1.
DOB 28/10/02

Flynn has dabbled a little in Dressage. Done a little eventing at Novice level.
A small amount of showing.
But his fortay is Showhunter/Showjumping.

Previously he has done very well in Showhunter competing to 1.10 at HOY.

More recently he has competed this past 2 seasons in the Showjumping arena.
Competed to 1.15 with success with a 15 year old rider in her first season on the circuit.

Recently carried a young girl around her first 1.10 class. First time she 'sat' on him with only a 15 minute warmup.

Schooling 1.20-1.25

Flynn has been super consistent with wins and placings in large classes.
Has competed at interschool comps.

He is absolutely perfect in every way to do anything with.

Floats and trucks perfectly.
Excellent to clip/prep for shows.
Excellent to stable.
Is hot shod.

A delight to have around.

Absolutely vice free.

Eats well when away.
Is a VERY good doer!

Suited to a Junior/Amateur rider wanting to get out there and do well.

He has a lovely technique over a fence.

Lovely straight movement.
His flatwork is of course well established.
Unscarred. Straight. With excellent feet.

Genuine sale of a lovely safe allrounder.

Lots of video footage available.