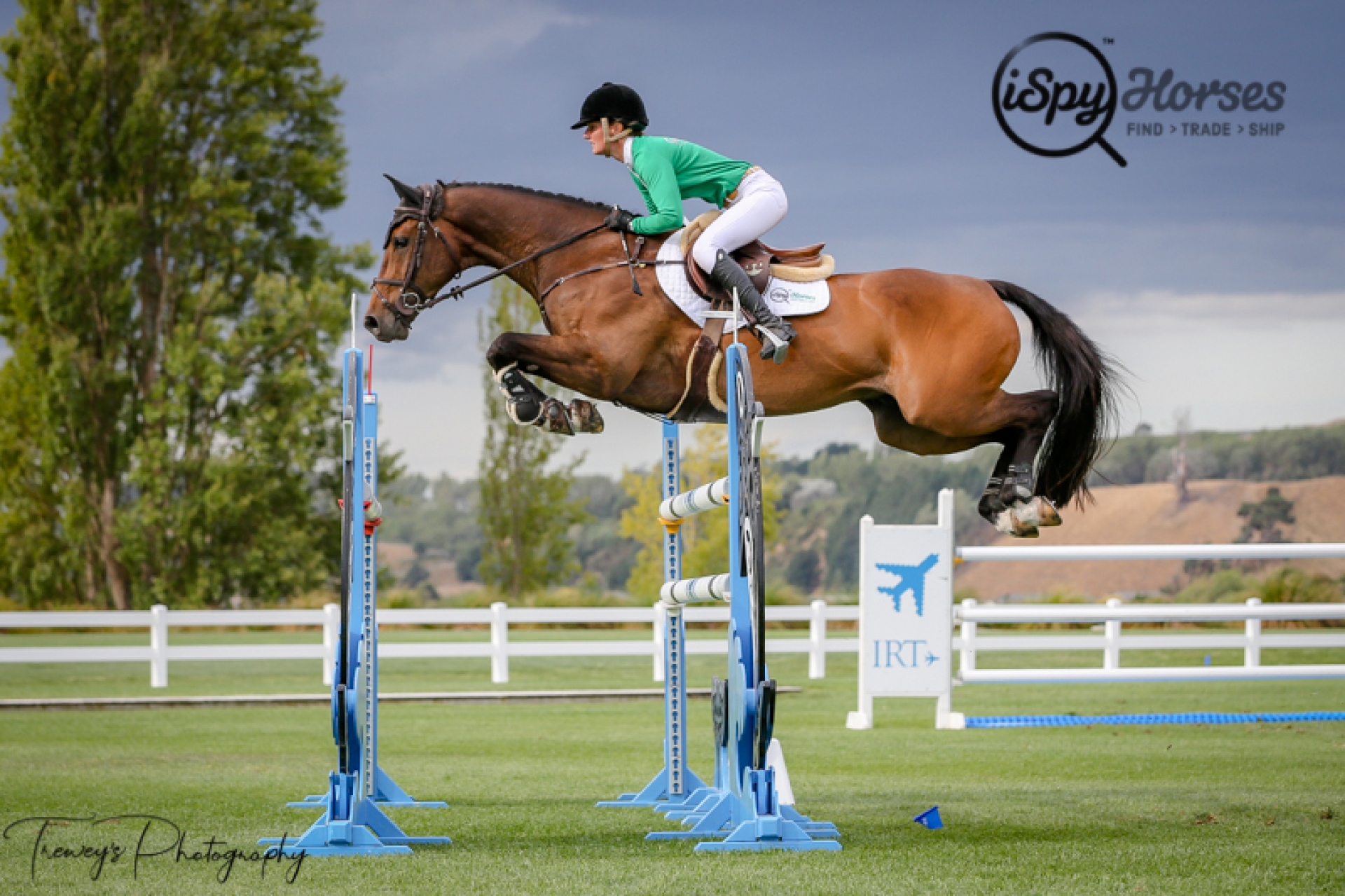 InFocus
---
A SPONSOR'S DREAM DAY
iSpyHorses -- Fri, 21-Feb-2020
When Brooke Edgcombe emailed me asking if iSpyHorses would consider sponsoring her show jumping team, I didn't hesitate. It was a no brainer. The other two members were Tegan Fitzsimon and Briar Burnett-Grant. Each of them would ride their top horses, respectively, LT Holst Andrea, Windermere Cappuccino and Fiber Fresh Veroana. Not only are these 3 riders outstanding competitors but they are also loyal supporters of iSpyHorses, often listing their horses for sale and right from when iSpyHorses began 4 years back. It was nice to be able to reciprocate with some support for them.
The competition, The International Teams Event at Takapoto Estate. My involvement, I said yes, and I paid the entry fee. Brooke went about arranging everything including keeping me informed along the way of simply all I needed to know, like where the venue is, start times etc. Brooke also arranged for the making of saddle blankets with iSpyHorses logo printed on them, iSpyHorses caps, and ears for the horses with our logo on the forelock. Takapoto Estate organised the polo shirts in our green and with our logo on the back.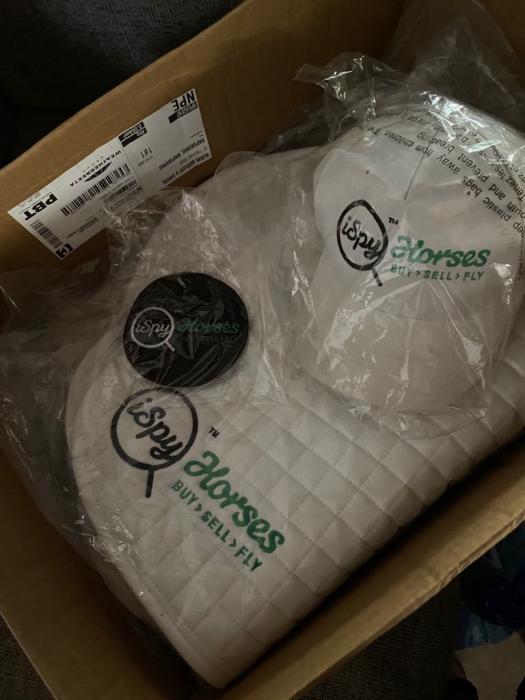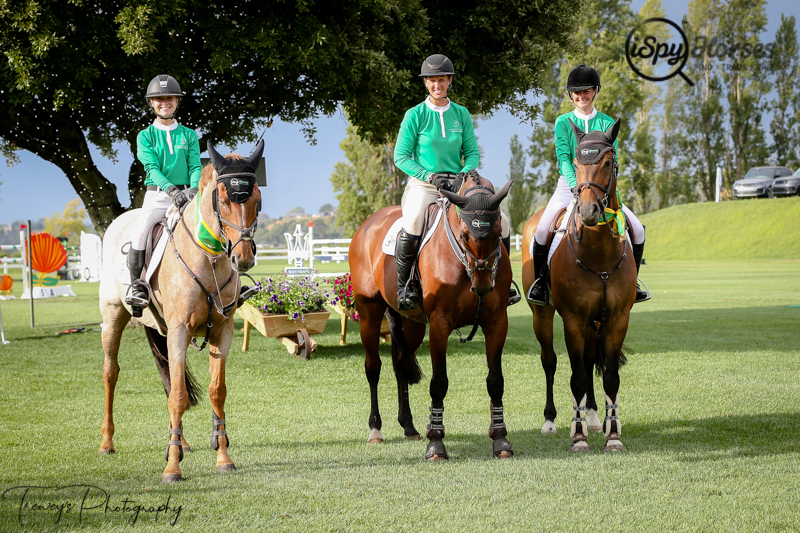 iSpyHorses Team
Today was the big day. There were 12 teams in total and the prize money $18,000.
My husband at the wheel, we drove 3 hours to Cambridge where I was forced to sit in a pretty dismal café to drink a coffee that tasted like poison and watch my man bolt down a questionable looking frittata. By now I was getting anxious. It was only 2 hours until kick off, and I had no idea where Takapoto Estate even was. I did mention, nicely but through gritted teeth, that I'd seen in photos what looked to be a nice café at Takapoto itself, but no it couldn't be right he said. And he was hungry. Which can soon become hangry, and I knew to endure. Which I did until my anxiety disorder took over and I snatched his plate from him, threw the contents in the bin and insisted we get going, now.
We drove out of Cambridge, over the bridge and took a left turn here and a side road there and out we went into unfamiliar country that transformed right before our eyes into something truly magnificent. Beautiful flat paddocks met the foot of the rolling hills that reached into the blue sky making for a magical NZ landscape. The houses were gorgeous. And then we were at the gates of Takapoto and in we went parked the car, took our shooting sticks because there'd be no seating, he said. Well we walked into a café that would leave a lot of cafés in Auckland ashamed, and I had the best freshly squeezed orange juice ever. To make it even better, I caught up with a friend who had recently visited Joanne Bridgeman and she reported that Joanne was doing very well. It was wonderful news and now the day was feeling like it was going to be a good one. The shooting sticks were rushed back into the car when we spotted the endless amount of fabulously comfortable cushioned seating, and then Briar crossed our path with her iSpyHorses cap on and her iSpyHorses shirt. And I couldn't have been prouder. She and her teammates looked wonderful.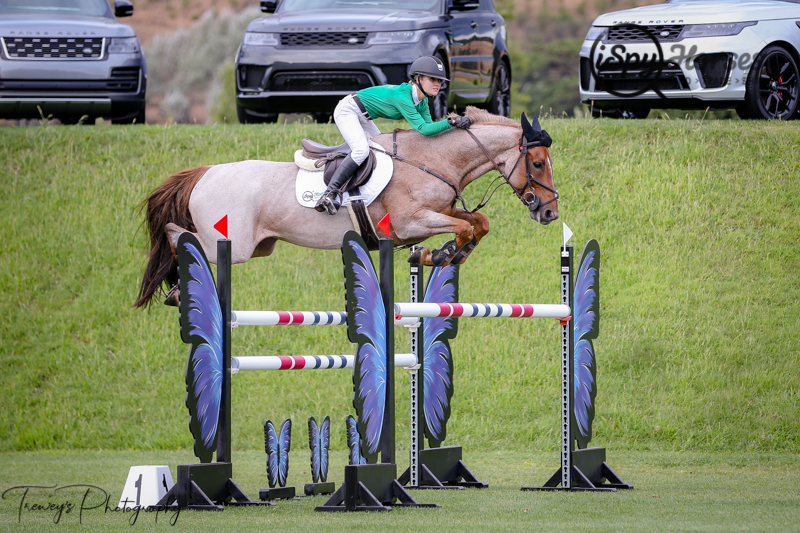 Briar Burnett-Grant and Fiber Fresh Veroana
The day unfolded, the teams jumped, I tried to savour every moment because these perfect days don't come along all that often. We had wine with Simon Bennet and caught up with other friends who we haven't seen for ages. We watched rails fall, and horses stop at jumps, and we had another wine and chortled away about who was riding what and who had bred that one, and then it was the final jumping round with the top four teams and the Aussies won, but iSpyHorses team were a very close second with only a rail in it. We had to make a bolt for home as the dog was alone and we weren't far away from the grounds when I got a phone call from Brooke thanking us for going and for our support.
I could not be happier about supporting this team who truly outdid themselves in terms of professionalism. They looked a picture, they rode like champions, and today will go down in history for me as being one of the best.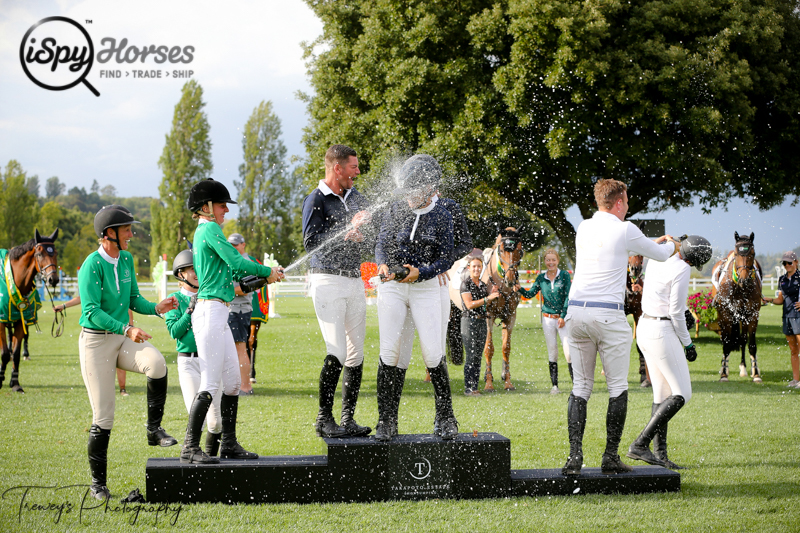 On the winners podium.
Next year we'll be hoping for the big win, but seriously just to be there supporting these three is the only incentive I need to make it happen all over again. If you haven't yet been to Takapoto Estate, then go. There's another week of jumping and it's well worth the drive.
Phote Credit & Copyright Trewey's Photography
---