InFocus
---
LILY AND RONALD, TWO TOUGH KIWIS TAKING ON EUROPE .
iSpyHorses -- Mon, 10-Feb-2020
When Lily Tootill was 6 years old, she would find anything resembling a show jump, including the laundry basket, and set up a course of jumps in her Herne Bay city backyard and proceed to jump them on her two legs at a gait something like a canter. We probably all remember cantering around the playground, neighing, jumping imaginary jumps, but not many of us, from NZ anyway, went on to successfully show jump internationally on our beloved, real horse. From this early age of 6, Lily, displayed her unwavering passion for horses and, supported by her parents, she was given her first pony, Twinkle. At Lily's first ribbon day, Twinkle did an enormous jump over a cavalletti and Lily fell off, refusing to get back on until the judge promised her a ribbon if she got on and did the jump again. Lily immediately got back on and did the jump again.
The owner of several great ponies, Lily moved onto the well known, amazing Magpie, and together they ultimatey won Show Hunter Pony Of The Year 2009 and 2010. Lily's first international success was in 2009 when she won the CSI FEI International childrens oceania tour in New Caledonia riding borrowed horses.
Pictured Lily and Magpie.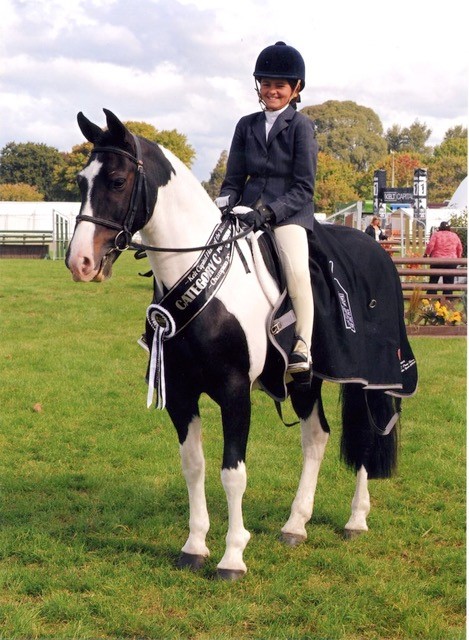 At age 14, Lily moved onto her first hack, Ngahiwi Cruise and together they won Junior Rider of the year in 2012 and were 2nd in 2013.
Pictured Lily and Ngahiwi Cruise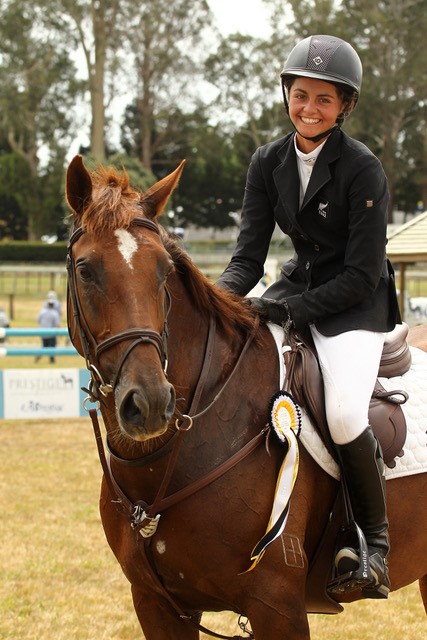 A horse that was a bit of a gamble at purchase, Ulysses NZPH at age 7, was on the market for a long time, and Lily fell in love with him. She nagged and nagged her parents to buy him for her, steadfastly overlooking his rather common head, the fact that he was no oil painting, that he was gangly, undeveloped and that he didn't have a starry jump. In short, he was not flashy. What Lily loved about him though, then and now, is that he keeps going, jumping clear rounds and he is unfazed by almost anything.
A few members of the iSpyHorses team were there to watch Lily and Ulysses at Horse of the Year 2017 in NZ, when they won the big one, the Olympic Cup, and the track was almost knee deep in mud, clearly impeding a lot of horses. But Ulysses jumped as if on a perfect surface never missing a beat. It was lovely to see this pair take that huge win, and to know they are now only a couple of years later more than admirably proving themselves on the world stage.
Pictured Lily the winner of the OLYMPIC CUP Horse of the Year 2017 in NZ.
Credit & Copyright Cheleken Photography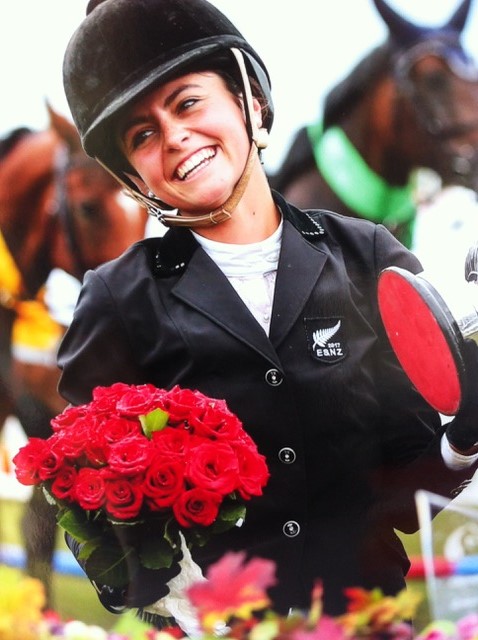 Ulysses, aka Ronald, was purchased in 2015. He is by Cabdullah Du Tillard and he is owned by Tootill Equestrian and Theresa Gattung.
Lily always wanted to show jump as well as she was able, and she believed it possible to achieve both this goal and simultaneously study law. She commenced her Intermediate Year at Auckland Law School, at age 22. Lily was in Auckland University's Sport high performance group and she received University Blues. It struck her though, that maybe her time with Ronald when he was likely to be competitive, was limited, and she had to make a hard decision. She knew the time was now or never. Of course, the study of law can always wait and in this day and age, nobody has a job for life, but horses are a long-term game. Lily didn't know if her horse was good enough, but she wanted to try. Most of the world champion riders are much older but top horses are usually at their peak between 10 and 15 years old and everyone knows that with horses timing is everything. Lily needed to go while she had a horse worth taking.
In April 2019 Lily moved to England with Ronald. They flew together from Auckland, NZ to the UK, landing in Heathrow 48 plus gruelling hours later. The driving force for Lily to brave this huge trip abroad, alone, was to advance her knowledge and maybe get the opportunity to ride in Nations Cups and possibly one day even be considered for the NZ Olympic Show Jumping Team.
Equestrian Sports NZ encourage riders wanting to represent their country at the highest level to be competing overseas. There is maybe only one NZ based rider on the Olympic longlist. Its tough though. There is limited funding for Show Jumping. The show jump riders have yet to achieve to the level of the eventors who are well supported financially. Consequently, the show jump riders must get out there and do it all themselves.
Lily, with nothing too specific about her future goals in mind, did have an immediate plan. She was going to take Ronald quietly, and not go straight out and jump big 150/160 classes at 3 star plus competitions because it's a whole different ball game to show jump internationally and Lily wanted to gradually feel her way.
To her credit, this plan has proven to be wise and she and Ronald are steadily building up their international performances and achieving some great results along the way. Together, the pair are competing with and placing amongst incredible company at 2 star level, and indeed they recently completed their first 1.50m 3 star class and just had two down. They finished midfield with 8 faults and Lily was thrilled. She reports that both the rails were rider errors, and is excited that Ronald stepped up in Europe to 1.50m, which is of course something to be immensely proud of and truly pleased for. Nobody has that crystal ball telling you what to expect. You don't know what's going to happen until you try. Ronald jumped 1.50m in Australia the first time he was there, but it is a whole new level now that he's in Europe in terms of competitiveness.
Lily is aware that Ronald may well not be a 5 star horse, and that only time will tell, but he's most certainly putting her on the map. The pair are doing us proud in NZ. And Lily's big gamble to make this massive move to the other side of the world is paying off. There are no regrets about the law degree going on hold.
In NZ, Lily and Theresa Gattung, went into business together purchasing 3 horses which Lily produced to a great level. One of the horses died which was truly heart-breaking and a big setback. Another of the horses, a lovely mare named Paris, was jumping 1.10m, and when this mare was sold, she was placing in Grand Prix 140m-150m. Lily was aware this horse would have gone on and done much more and she was sorry to have had to sell her. But she had no other option. The horses had to be sold and Lily used her share of the profit to fund her trip with Ron to the UK.
On arrival in the UK, Ronald required only a short spell. The pair were based with international show jumping team IN Show Jumpers, owned and managed by Tim and Caroline Wilks. After spending the first summer there and competing at various shows in Europe, mainly Belgium, Lily decided in November to move to Oakland Stables, in Holland, owned and run by, Darragh Kenny. The main reason for this move was for Lily to experience basing on the continent and to be better informed as to where exactly to permanently base in the course of time if everything worked out long term. Also, Oakland Stables has around 50 horses, ever changing, arriving and moving on, which gave Lily more opportunity to ride.
It is busy there and Lily's day begins at 7am and she will work through until around 6 pm give or take, longer or shorter depending upon what is needed. Sometimes at the end of a long day, Lily must do the night check. Besides riding 5 – 7 horses a day, Lily does all types of yard work including mucking out and she usually works for 6 days per week but sometimes 7 when things get hectic. This is clearly not a job for anyone who is precious about working 9 – 5 with the compulsory tea and lunch breaks etc.
Darragh Kenny is number 8 in the Longines FEI jumping world ranking and of course Lily is gaining a wealth of information from him. Kiwis are renowned for working hard and Lily is testament to this. Plus, the good old Kiwi ingenuity is evident in Lily. On more than one occasion, while in England, Lily went on her own with Ronald in her little horse van to a horse show that the Wilk's were not competing at. Setting off alone at age 23 in a brand new country, driving on the wrong side of the road, Lily would stay in an Air BnB somewhere near to the show grounds where Ronald would be housed, ride a bicycle owned by the BnB to tend to him each day and compete. To say that Lily is making the most of this wonderful opportunity she's grabbed for herself and for Ronald, is to say the least. She is putting in the hard yards, and her great planning and her ability to make things happen and work hard are paying dividends.
Lily was always curious to know how things were done in the UK and in Europe, and in particular to discover what may be different to what we do here in NZ. Some of the differences, she has discovered, are blatantly obvious in the level of horse management. It is in fact above and beyond. There are vets who specialise in different fields, and Lily describes the vets she uses as the French vet and the British vet.
It is commonplace if you are competing in Europe to take your vet with you. What this means then is basically, if a hair is out of place, the vet is on it, all over it in fact, and immediately there's a replica chestnut hair flown in from the chestnut hair stockist in Ukraine. And of course the surfaces that the horses jump on are immaculate. There's no 'she'll be right' in Europe. The result of the better surfaces and detailed horse management is the horse is going to of course be jumping better than it ever jumped in NZ.
While abroad, Lily has had access to a lot of extremely experienced people who are available for their clients. They're professionals, doing this for their livelihood and they're readily available with a wealth of information and a willingness to share this and support the riders. Jumping is a big, big business. Its expensive to be a part of it but also the prize money at the top of the sport is in the millions which leads to a more professional environment.
This begs the question, how many people in NZ make money out of horses? Whereas, if you look at the big wide show jumping world where Lily is now, the five-star riders are making a great deal of money. Good prize money trickles down to the 2 and 3 star level.
All the NZ international riders including Lily, are working closely with Warwick Allen and Oliver Edgecumbe at ESNZ. Lily talks to them regularly about her plans and what she is doing. Other international riders there, Daniel Meech and Sam McIntosh, for instance, are hugely helpful to Lily and very supportive when they are all at the same show together.
The hardest thing for Lily's family having her on the other side of the world, is that there's not much sleep while she's competing. The phone goes ping all night with texts etc reporting of a clear round. Or bugger I had a rail. And of course her mum, Cindy Mitchener, would have it no other way.
Interestingly, in Belgium when Lily and Ron placed 5th in the Grand Prix, the announcer reeled off over the loudspeaker, the details of the Olympic performance of Ronald's sire Cabdullah. They are very knowledgeable in Europe. The computerised entry system EQUIPE is incredible. Everything around the sport of show jumping in Europe is highly sophisticated and immediately at hand. It's all digital. All information is online. All charges go onto your competitor card and all winnings go onto the card and costs taken off, it is all tallied digitally.
Recently a buyer from overseas eventuated for Ronald, through a top agent, and Lily received an offer that she could not refuse. A young Mexican competitor arrived to test drive Ronald,but it wasn't to be . Ronald is harder to ride than he looks. He's a forward horse, very strong and he alone determined that he wouldn't be sold and that he will remain with his beloved partner who incidentally adores him and was probably secretly very relieved that the rider from Mexico and Ronald didn't strike the right chord.
Currently, Lily, is in Spain at shows with the IN Show jumpers team. Darragh Kenny and the Oakland team are in Florida. There are four tours in Spain right now because it's winter in Europe. The indoor circuit is on in Europe for the World Cup but lots of riders go to Spain where outdoor shows are being held. This Spanish Sunshine Tour prepares the horses for the outdoor circuit in Europe when it is once more the summertime. Lily is riding for Tim and Jonelle Price in Spain, where the Price Team have 6 young horses entered. At the end of the Sunshine Tour in Spain, late March, Lily and Ronald will return to Oakland Stables in Holland for the summer circuit.
Pictured Lily and Ronald competing in Spain in the 1.50m 3* Class. Photo Credit and Copyright EQISPORTIF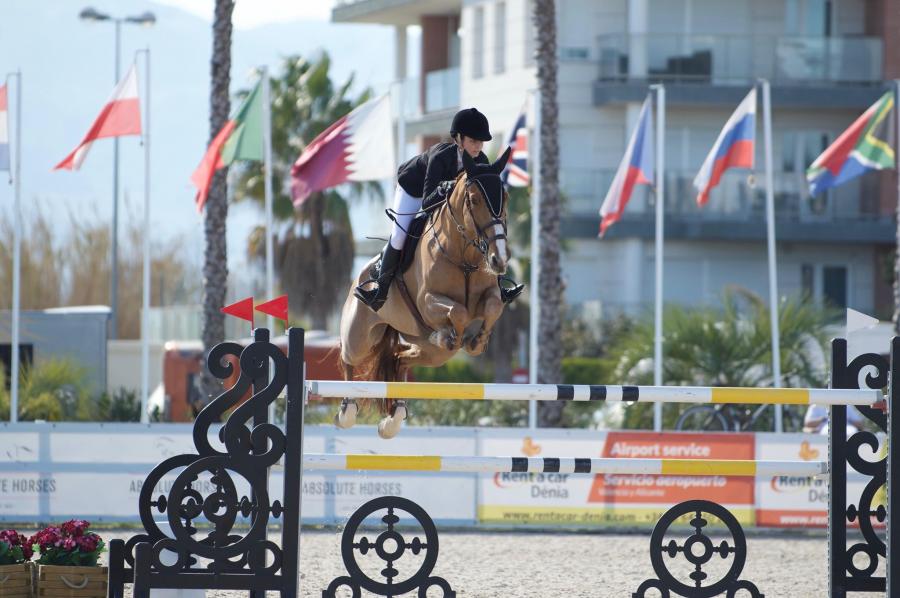 Pictured Lily and Ronald Competing in Spain in the 2* 1.45m Ranking Class. Photo Credit and Copyright EQISPORTIF
By the end of 2020, Lily is hoping to have organised a permanent base somewhere in the south of England, with 3 -4 stables. She'll be working towards offering investment proposals with various options for people wishing to become owners or part owners. From her own base, Lily will be looking to commence producing and selling horses in Europe with the potential to keep some for herself to ride and hopefully compete for NZ at the top of the sport. Lily knows this will involve a great deal more day to day hard work, but she could not be more excited about this and the opportunity that seems to be more within her reach now.
Lily and Ronald have achieved several top 20 placings which she considers to be a huge achievement as there is almost always at least 80/90 people in the classes 1.40m and over. Some of her highlights to date have been placing 5th in the 2* GP in Bonheiden in June, 2nd in the 2* Ranking Class at Sentower Park in July (a ranking class is basically a GP with slightly less prize money), clear and 13th in the 2* GP in Peelbergen in December, Clear and 9th in the 2* GP in Oliva a few weeks ago and Clear and 17th in the 3* Ranking class in Oliva a few weeks ago. With only one horse to jump Ranking classes and GPs things are much tougher. At the bigger shows there is a qualification system for the Ranking Classes (80 riders) and the GPs (60 riders). The riders with multiple horses for these classes often keep one fresh for the GP, using other horses for the qualifying and ranking classes. Luckily for Lily, Ronald is always full of energy, as he has always been from day one, and which is standing him in great stead now. There have been some classes where Lily has retired early in the course after having 4 faults, to save Ronald's energy rather than push him for what would then only be a minor placing. There are almost always at least 10-15 in the jump offs and having only one horse to use for all these classes is hard work.
Lily admits that while she has no regrets whatsoever in making her big move, it hasn't always been easy. Having only one horse for the big classes is tough but then Lily is quick to add how lucky she considers herself to be, to even have one horse to jump at this level.
"There are so many good riders lacking horsepower. On a personal level, living on the opposite side of the world from home can be tough. I am (notoriously) not much of a 'homebody' and while I can still say I have very seldom been homesick and I am not a person who would ever admit it at the time, it is very easy to feel very alone living by yourself in a non-English speaking country, especially on occasions such as Christmas and birthdays."
There are, however, many people living away from home, so Lily in this respect is not completely alone. Although, the English and Americans based in Europe, do have the option to drive or fly home within a few hours. Lily finds it greatly comforting to meet an Aussie or another likeminded Kiwi who really understands just how far away from home they are.
"I am unbelievably lucky to have some wonderful friends who I absolutely adore. These people have made being over 24hrs away from home that much easier."
Lily is sponsored by Emcee Apparel, Devoucoux Saddles, and she is supported by her family and Theresa Gattung.
WORDS The team at iSpyHorses.
Copyright iSpyHorses 2020.
Spanish Photos Credit and Copyright EQISPORTIF
---