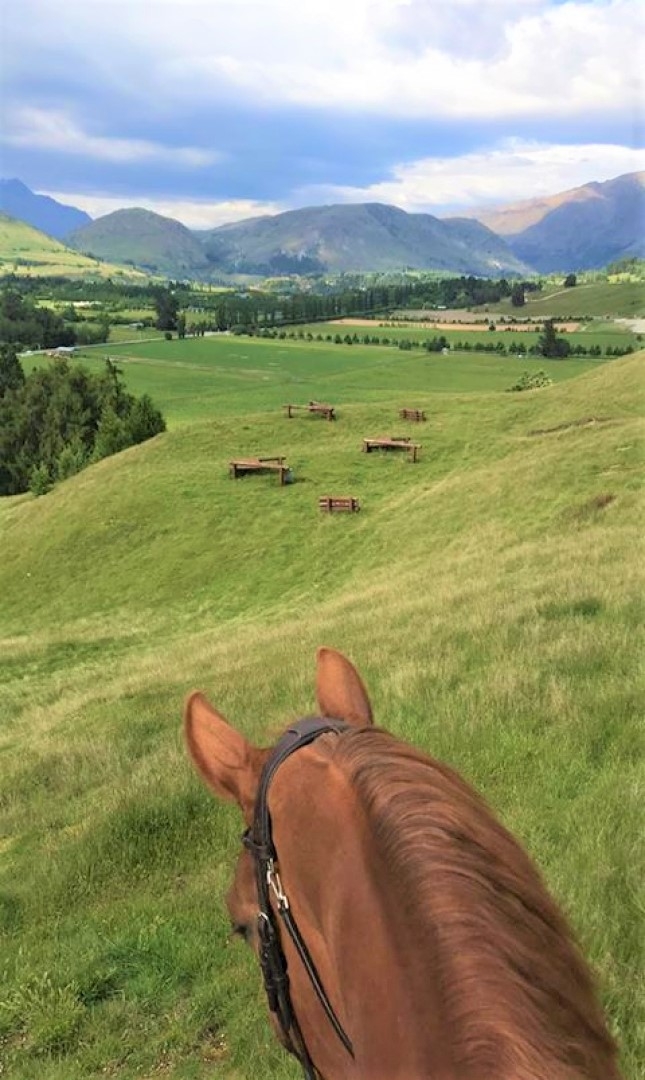 InFocus
---
HOME AGAIN
iSpyHorses -- Mon, 25-Nov-2019
Not only in New Zealand but also internationally, Olivia Robertson, 24, has enjoyed great success with her show jumpers. Daughter of the famous former All Black, Duncan Robertson, Olivia attributes her competitive spirit to him. With a bit of a chuckle, Olivia told us, "Our family motto that I've known from since I can remember, is 'never give up, never give in and never come second.'"
Olivia grew up in Queenstown and began riding at age 7. Her career began with eventing, but she transitioned to straight show jumping at age 13, when she purchased the Grand Prix pony, Sweet Edition. The two quickly became a team and Olivia's riding skills and ambition grew. When her family shifted to Christchurch, Olivia began riding hacks and she took two horses to World Cup Level. Two of her big successes were winning the Norwood Gold Cup and the Young Rider of The Year. It was shorty after that, at age 18 when Olivia moved to Holland to ride, train and compete full time at De Dinkel Hoeve Stables where she stayed for almost the entire time away which was 3 years in total.
Olivia found the country very different to New Zealand, and the competitions there were full on and much faster paced. "The shows were fantastic. Beautifully set up and just a whole new level." Olivia says the best part of being in Holland was the exposure to all the top horses and riders, which allowed her to learn almost by osmosis. "When you are surrounded by the best it pushes you to be the best. It also taught me a lot about myself and about discipline. The hardest part was being away from friends and family, and the support systems that I had become accustomed to. I especially missed my mum. She is an amazing person and I feel very lucky that she isn't just my mum but also my best friend. It was hard without her by my side. In Holland it's a tough game and at the end of the day everyone is trying to make a business of it, so they are looking out for themselves before anyone else. I went so that I could get the exposure and to really test myself. And most of all to learn. I had so much learning to do and it was even more apparent when I got there. The more I learnt the more I realised I didn't know. It was very humbling."
Olivia learned to speak some of the local language while there but most of the community were fluent in English, which made the move a lot easier.
Olivia moved back to New Zealand a year ago ready to regroup in Queenstown and the search for a great horse, began. It wasn't too long though, before Olivia realised she'd left the best horse and the one she loved in Holland.
Grandaire, fondly nicknamed as Teddy, had stolen Olivia's heart while she trained and rode him for her entire time in Holland and from when he was 4. Olivia had really enjoyed producing him through the levels in Europe and she competed him in the Seven-Year-Old Series (1.40m level) in Spain, right before she came home to NZ. "I needed a horse to jump in the bigger classes and he was my mate, so the decision was relatively easily made. I knew him so well and I think sometimes when a horse knows you really love them, they will try their heart out for you. And this is Teddy."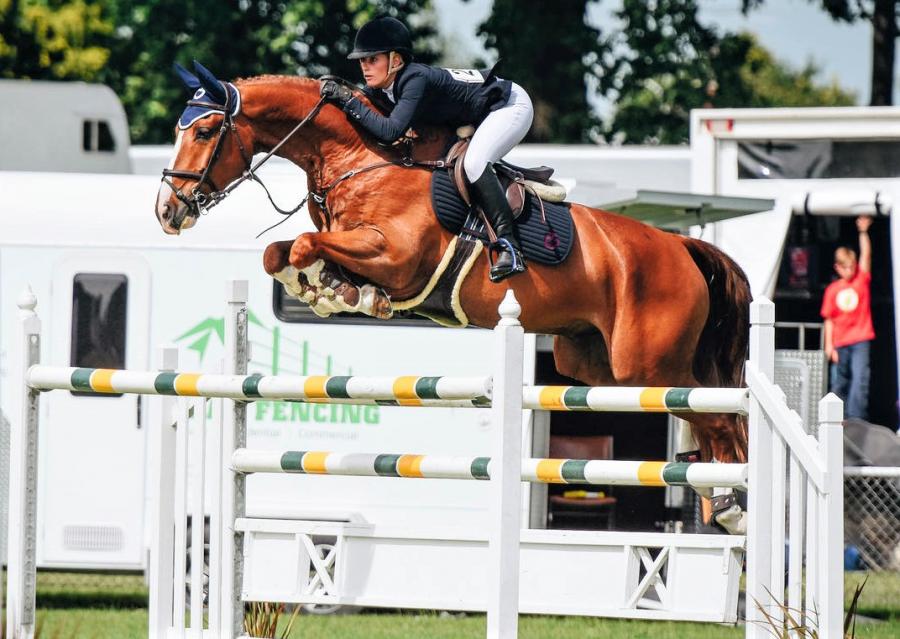 Olivia and Grandaire competing in the Grand Prix at Ashburton
Grandaire stepped up to Grand Prix level this year in NZ and his most recent result was placing 5th in the 1.40m-1.50m Grand Prix at Ashburton. Olivia hadn't competed at that level for almost two years and it was also Grandaire's first attempt at that level, so she was thrilled with the result. "He jumped super well and really showed his scope and that he was ready to be jumping at the level. It was very cool, and I think I stepped him up at exactly the right time."
Olivia purchased her second mount, 6-year-old Casino GSNZ when she moved back to New Zealand. "I think he's going to be a super horse one day. He has lots of scope and is very careful and clean. I'm sure he has an exciting future,"
Olivia's weekly routine with her horses during the show jumping season generally begins on Mondays with a day off as they will have been at a show during that weekend. They do, however, get brought in from the paddock for a treatment with their pulse blanket.
Tuesday, they get lunged and maybe a ride around the farm, then a schooling session on Wednesday and Thursday before heading off to another show on Friday. Olivia mainly rides professionally but she also works part time for her partner in his contracting business. "It's quite expensive to get a team of horses going!" Olivia reminds us.
Olivia loves being around the horses. "Who can complain about having a hobby for a job?" she says.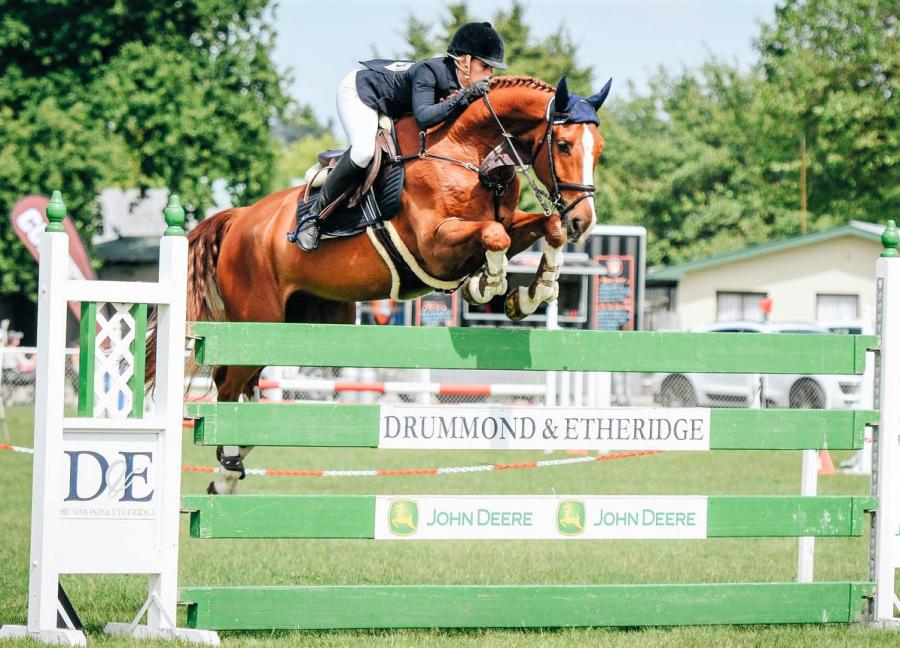 Olivia and Grandaire competing in the Grand Prix at Ashburton
Olivia's advice to other aspiring show jump riders is, "Give it a go and just have fun. It's good to remember that your sport is also meant to be fun. Support your fellow riders as everyone has good days and bad days. It can be a tough sport sometimes. You never truly know what anybody else is going through and support goes a long way."
Olivia is acutey aware of the need for support from fellow equestrians, given that she rode competitively on the other side of the world, thousands of miles away from family and friends.
When looking for her competition horses, Olivia says that a good brain is most important to her. "A horse must want to work with you the whole time. It doesn't matter if they've got a few quirks here and there, if they show a good reaction over a fence. If they come in and make a mistake and come around the next time and jump better, that's all you can ask for. You can have all the jump in the world but if the horse doesn't want to work with you there's not much you can do about it."
Olivia has been lucky to have a variety of show jumping coaches in her riding life and she has learned a great deal from them all. "It seems to have always been, the right coach in the right place and at the right time for me. They were there when I needed them," she told us.
"In NZ, I trained with John Cottle for a long time. He was fantastic for my World Cup Horse Ngahiwi Cisco. When I first moved to Holland, I trained with Hendrik-Jan Schuttert, who was very particular and good with flatwork. He created great systems to produce young horses through the levels. So, learning from him was amazing. At the end of my time in Holland, I trained a lot with Miranda Harrington, who is a Kiwi based in Holland for around twenty years. She was great."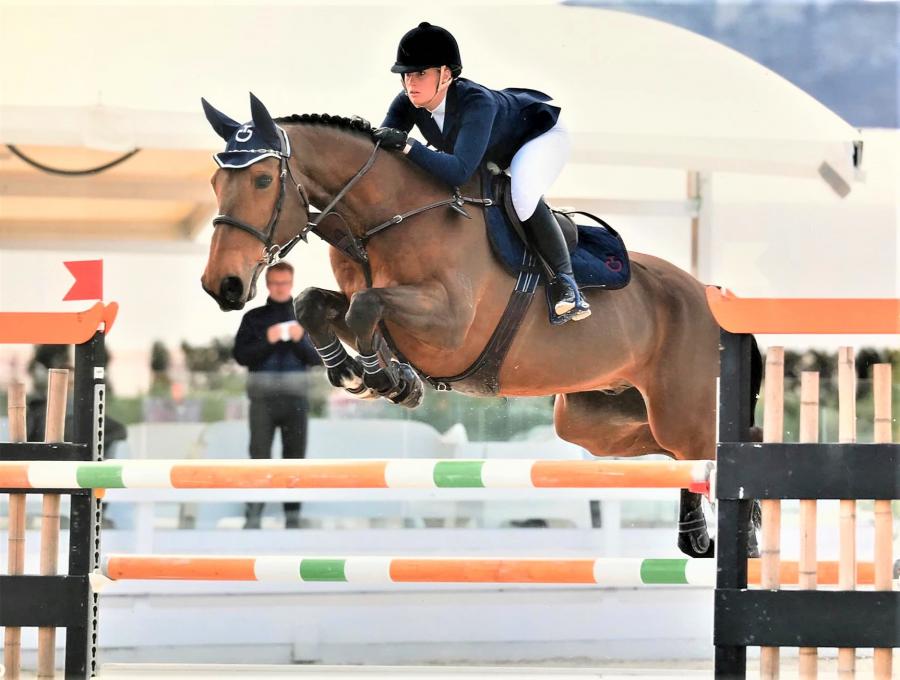 Olivia and Ngahiwi Cisco competing in Spain at Oliva Nova
Olivia found Miranda to be particularly inspiring and relatable. "She had been there and done exactly what I was doing. She understood. She'd gone from New Zealand to Holland, had new horses and had to learn it all again. She knew exactly how it was for me. She has inspired me. She did not have a lot of money and had to work very hard to make things happen. She is unbelievably humble about it all." Olivia believes that Miranda is a phenomenal rider and a person who deserves more credit than she gets.
When Olivia was asked which horse is the one that has been most special to her, without hesitation she said, "Ngahiwi Cisco."
"I took him from Junior Rider right up to the World Cup Series. He would be my one in a million," she told us. She still owns Ngahiwi Cisco, and currently he is in Australia with Jessie Smith. But he will return home to retire on the Robertson family farm when Jessie has finished with him.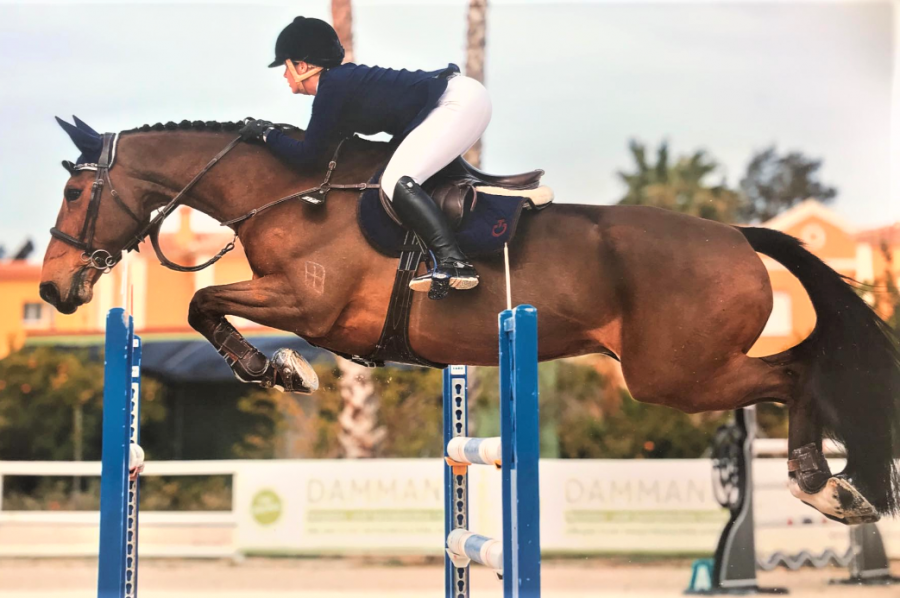 Olivia and Ngahiwi Cisco competing in Spain at Oliva Nova
Olivia can most definitely be admired for her commitment and passion for horses and her sport. She has a lot of nice young horses in her paddocks too, that she has bred and that now just need to grow. There's a four-year-old, Centavos, out of a Voltaire Jaguar mare, that had a foal to Candy Man GNZ this year. There's also a Pennsylvania two-year-old out of the same Voltaire Jaguar mare and she just had another foal this year. These horses are all ones that Olivia has bred and we expect they'll be filling the shoes one day of the top two horses, Olivia is out and about on, competing successfully at the top level.
WORDS The Team at iSpyHorses

© iSpyHorses
---